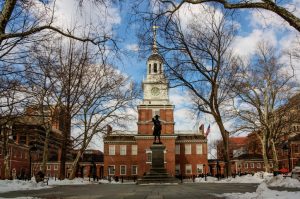 How Deregulated Electricity Works in Philadelphia
Your electricity comes to your home from two companies, the distribution company and the supplier.
The distribution company in Philly is PECO. They are responsible for maintain the electric lines, fixing power outages, and reading your meter. They charge everyone the same price for delivering electricity to them, no matter who the supplier is.
The electricity supply company is that one that buys electricity for your home or business. Unlike PECO, you get to choose your electricity supplier by shopping for the best rates.
Three Factors You Need to Consider
There are three factors to look at when you're trying to find the cheapest electricity rates in Philadelphia and the surrounding area:
Rate – Naturally, you are looking for the lowest rate. This will be the first point to look at.
Term – How long your contract should be will be based on how long you plan to live where you are.
Cancellation fee – If you need to cancel your plan, you want to make sure that fee that you pay is not outrageous.
One of the most important factors in the rates is fixed rates versus variable rates. In general, we, at PA Energy Ratings, advise against variable rate plans. Variable month-to-month rates make great sense for customers who want more time to shop around or aren't ready to commit. However, variable rates can fall, rise slowly, or spike. Some plans feature special LOW introductory rates that are actually variable rate plans. Customers might rush to enjoy that cheap rate but after the first month their rate can double or even triple.
Fixed rates lock-in a set, predicitable rate, protecting you from sudden price spikes and making budgeting easier.
The Best Rates in the PECO Service Area
The best electricity rate in the Philadelphia area comes from Frontier Utilities' Green Online Premier 6 plan. It's a 6 month plan that is comprised of 100% renewable energy. With a rate of just 6.5¢ per kWh with a cancellation fee of just $10. This gives you the ability to use your lights without contributing to greenhouse gases.
In 12 month plans, Oasis Energy offers their Stress Free 12 with a rate of 7.0 ¢ per kWh. With a cancellation fee of just $12, this is an easy plan to get out of in case you need to. A simple plan with a simple exit plan, Oasis definitely reduces the stress.
The Spark Advantage Plus 24 is a great 2 year plan with a 6.8¢ per kWh rate and a cancellation fee of $100. This is a rate that will give you peace of mind for two full years.
For three full years of a guaranteed rate, Constellation offers a 7.0¢ per kWh on their 36 Month Home Power Plan. This is an excellent way to make sure that increases in electricity rates don't affect you for years.
These plans, covering a wide range of terms and prices, are among the very best electricity rates in and around Philadelphia. Choose wisely and you can save a lot of money without a lot of effort.