Why Was My January Electric Bill So High?
Pennsylvania electric customers were hit hard with high winter bills — some may see rates increase!
You remember all that bitter winter storm that froze Pennsylvanians in it's icy grip at the beginning of January?  By now the price for heating your home during the bomb cyclone has probably bombed your wallet. And that very likely came on top of other painful wintertime expenses, including those outstanding Christmas credit bills.
While all that sounds bad for all Pennsylvania energy customers, you're not alone. A good number of retail electricity suppliers are being squeezed to pay extra for the all power they supplied to their customers. Not to gin up too much sympathy for them but the important thing electricity customers must watch for is that, in the long run, these suppliers' will likely pass on their expenses to their customers.
Let's show you how.
What if You Were an Electricity Supplier?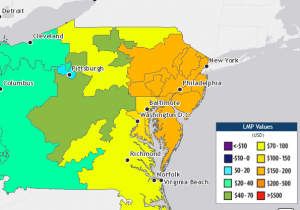 Let's say your little Pennsylvania electricity supply company has an hourly load of 100 megawatts or 100mWh (in reality, the load fluctuates hourly but let's keep it simple). Let's say that in November, you decided to contract for 80% (80 mWh) of the electricity you'd need ahead of time as a hedge for the period from January 5 to January 8. That leaves 20% (20 mWh) of the load left to be purchased. Now, while you expected cold weather when you contracted for the first 80% of supply, there was no way to know with certainty that far in advance just how cold it might get. You pour over weather forecasts and investigate some risk insurance options. Ultimately, you roll the dice anyway and decide to buy the remaining supply on the Day Ahead Markets (DAMs) and on the spot markets.
Fast forward to the last week of December, 2017. Forecasters are predicting that cold weather will be moving in but they are unable to say how cold it will get. To make it worse, it's not for another two days that they can predict low temperatures with certainty and how long it will last.
Now, you've got to hustle to buy more power to meet anticipated demand. And you need to move fast because Pennsylvania electricity rates are about to spike.
Temperatures Fall, Electric Rates Soar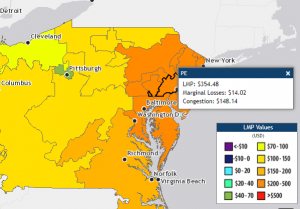 Natural gas price is more important to electricity prices than ever before. Because the natural gas fuels many generator plants in the MidAtlantic, generator supplier prices surged by 50% more than the same period last year.  On January 5, local natural gas prices in the northeast ranged from $83/mmBTU in Boston to $140/mmBtu in New York City (the national market benchmark at the Henry Hub in Louisiana was just $4.645/mmBtu).
Electricity wholesale prices spiked all over the northeast. January 5 peak prices in New York City hit $248/mWh and New England prices hit $306/mWh. In the MidAtlantic region, prices spiked by an average of $344 mWh at the PJM Hub. Prices on the Day Ahead Delivery Market averaged $149/mWh. Demand was also came close to record levels in the PJM market hitting 134 Gigawatts on January 6.
Who Weathered the Storm?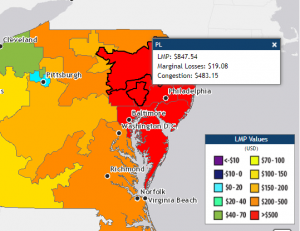 So, let's say that even though your tiny electricity supply company had 80% of its 100 mWh load covered by its contract for electricity priced at $25/mWh (that's 80mWh costing at totalof $2,000 for one hour). By law, you still had to meet the remaining 20 mWh load to your customers. And that remaining load cost a whole LOT more — the average price was about $149/mWh. That totals out to $2,980 for just one hour of one day. Plus, because it was so danged cold, your customers used another 20% more electricity —that's another $2,980 per hour. Your cost for one hour of electricity supply now totals $5,960!
Stretch that amount over the full 24 hours of each of those first four days of January. Now you can see how that little 20% you didn't cover back in November grew to into a staggering pile of debt! Because the Pennsylvania PUC requires electricity suppliers to have reliable credit and financial resources, it's a no brainer that your bank will lend you the money. BUT— in the end — that debt is going to be a painful drag on your business. You're going to need to find a lot of money to pay it off.
The only way you can raise money is to increase the amount you get from your customers.
Increased Rates. Increased Traps?
While suppliers have a variety of subtle means to increase prices, such as changing business rates and some transmission costs, the fastest and most immediate way is to ratchet up variable rates for residential customers by 20% – 50% more. Many supply companies have variable rate plans in place. While these plans are not always a customer's first choice, it's not all that unusual for companies to use their variable rate plans to catch customers who do not switch to a new or fixed rate plan in a timely manner.
For example, some Pennsylvania suppliers offer brand new customers a low introductory rate for the first month that will shift them to a regular variable rate plan at the beginning of their second month. Another increasingly common practice is for companies to take existing customers with expiring plan contracts and automatically roll them into a variable rate plan at the end of the term. That means that unless customers choose a new fixed rate plan before their current plan's term expires, they could find themselves paying way, way more!
Who Has Enough Energy to Survive?
While some companies may have scraped past the January disaster by using an 80% hedge, there are electricity supply companies who fared far worse. Some might have not hedged enough; some might not have hedged at all. Consequently, it won't be surprising to see some churn among Pennsylvania's electricity suppliers as more hardy companies vie to snap up those who were severely weakened. Though each acquisition or buy-out will have its own unique circumstances, a few such deals may result in energy plan offerings that only offer consumers less while charging more.
How will electricity consumers be able to find the best deals?
By visiting https://www.paenergyratings.com/electricity-rates, Pennsylvania's electricity customers can access not only information on the best rates and deals but also ratings and reviews by actually customers. Our mission is to provide not only a site where people can compare the different prices on available electricity plans but to create a community with one goal: to provide all of the resources and help people need to find the best electricity plan that fits their needs.