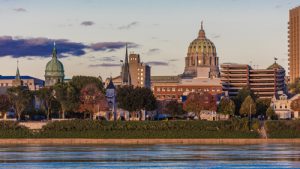 12 Month Fixed Harrisburg Electricity
Shopping around for Harrisburg electricity plans can be an extremely frustrating experience which makes you want to pull your hair out! With so many options available to you when you compare Harrisburg electric, you have every right to feel overwhelmed. You probably just want to close your eyes and randomly pick an energy provider from the list. But, don't do it!
Customers who are in the Met-Ed service area can choose competitive electricity plans like the 12-month fixed rate plan from Public Power. When you review the best electricity plans you should consider rates as well as perks, rewards, convenience, and more.
Competitive Harrisburg Energy Rates
One plan to consider when shopping Harrisburg electricity supplier plans is the Public Power 12 Month Fixed plan. This plan offers a fixed 12-month rate which doesn't change for one year. You know exactly what you'll get when you sign up for the 12-month fixed plan with Public Powerfor electricity in the Harrisburg area. Because the price per kWh won't change during the 12-month term, you'll enjoy many benefits due to the fixed rate. You won't have to worry about months where there is extreme heat or frigid temperatures. Plus, you'll have predictable monthly electricity bills and your rates will often be lower over the 12-month period when compared to variable rate plans.
Compare Fixed Electricity Plans
When you compare electric supplier rates, you want to know the bottom line, such as usage costs, additional charges, etc. Customers should read and understand a plan's terms of service before signing on to one.
Currently, Public Power's 12 Month Fixed charges 7.34 cents per kWh for new customers only. It's important to note that Public Powercharges a $50 early termination charge if you end the 12-month contract early. If you don't pay your bill on time, you'll have to pay a late fee.
Public Poweralso offers Smart thermostat options, provides an optional Smart Home air filter delivery service, and will send you a free monthly usage email report so you can monitor your usage and stay on top of how much you spend.
Cheap Harrisburg Electricity
Whether the Public Power fixed plan is right for you depends on your individual electricity supply needs. Public Power's 12 Month Fixed plan, with its 7.34 cents per kWh rate, might be your best choice for straight forward fixed-rate one-year plans. On the other hand, if you need a Harrisburg energy provider that offers a great rate plus additional savings, such as Smart Home credits and free power opportunities, you may want to want to compare electric rates in PA that offer these credits and incentives. The bottom line is that with Public Power 12 Month Fixedyou will get a good deal on that kWh price for 12 months. VisitPAEnergyRatings.com today to learn more about the best electricity plans and suppliers in Harrisburg.