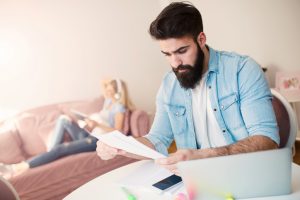 Cheapest Energy Company in Scranton!
Electricity isn't cheap and saving money can be hard. If you live in Scranton, you might be spending more money than you need to on your home's electricity. So where do you find the best rate of energy? Well Direct Energy's got your back because they supply the energy you need at a low affordable rate.
Compare Direct Energy's Electricity Rates.
Direct Energy's Live Brighter 12 plan is the lowest rate in Scranton, offering a rate of 6.9¢/kWh. For an average household energy usage you could pay just $57.75 a month or around $700 a year. Another supplier offers a rate of 9¢/kWh. An average month's usage with their plan adds up to being $75.33, almost $903.96. With Direct Energy, you save $17.58 a month, or $204 a year. And while the U.S. Energy Information Administration predicting flat natural gas prices for Pennsylvania electricity generators going into 2019, signing up for this plan now will protect you from unexpected price spikes.
What Is the Cancellation Fee?
This plan has an early cancellation fee like other suppliers, however Direct Energy is not able to say just what the cancellation fee will be for each customer. The cancellation fee is based on how many months are left in the plan when you decide to cancel. You pay more if you leave at the start of your plan and less the closer you get to the end of your plan. Other electricity suppliers in Scranton have set cancellation fees regardless of how much time is left. One supplier has a early cancellation fee of $110 that you would pay no matter how much time is left in your contract with them. With Direct Energy, you a lower cancellation fee by leaving later.
How Do I Pay my Bills?
Direct Energy has an online payment system that allows you to pay your bills from the convenience of your own home. Regardless if the roads are slick with rain or snow, you can pay your bills on time. If you still want to pay your bills by mail, you can check your online account with Direct Energy to see when your Scranton electric bill arrives. Direct Energy also has a phone app. With it ,you can track how much energy you're using and if you know your monthly usage habits, you can predict your payments for future bills.
PA Energy Choice.
With a rate below 7¢ and a cancellation fee that decreases as time goes by, March is a prime time to buy to snap up this plan by Direct Energy. For more ways to save on electricity go to https://www.paenergyratings.com/.