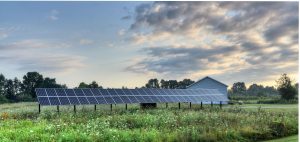 What is Penn State's solar project?
Penn State and Lightsource BP announced on February 5 plans for a 70 MW off-site solar development to provide 25% of the university's power over a 25-year term. The project will use "over 150,000 solar panels in three locations encompassing roughly 500 acres of Franklin County land."
How will the project benefit both Penn State and Pennsylvania at large?
According to Rob Cooper, senior director of energy and engineering in Penn State's Office of Physical Plant (OPP), the project is a win for Penn State, Pennsylvania, and the environment.
"Among the many benefits of this significant investment in solar-based electric generation include cost savings, lower greenhouse-gas emissions in support of Penn State's aggressive sustainability goals, economic development with job creation, and income for host communities through development of the Pennsylvania solar market."
With a completion date of July 2020, the project aims to lower greenhouse gas emissions, the equivalent of as much as 57,000 metric tons of carbon dioxide per year, as well as reduce the university's annual electric costs, provide long-term budget certainty for a portion of the university's electric generation requirements, and to continue support of Penn State's 2016-2020 Strategic Plan: Our Commitment to Impact.
How is Penn State producing electricity and protecting the environment?
This solar project isn't Penn State's first foray into cheap, sustainable electricity. In 2018, the university signed a 25-year power purchase agreement for an on-site solar array. In 2015, they installed a solar array outside the OPP's main facility to provide power to charge electric vehicles. This was done with the help of students and a $75,000 grant from the Sustainability Institute's Reinvention Fund.
David Gray, senior vice president for Finance and Business at Penn State, said, "I'm thrilled to be supporting another solar project that will provide a number of benefits to the University. This project not only provides the University with a reliable and sustainable energy source, but continues our progress toward our GHG reduction goals. In addition, our goals and this project align with Gov. Wolf's executive order establishing the first statewide goal to reduce carbon pollution and procure renewable energy to offset at least 40 percent of the Commonwealth's annual electricity usage."
The university has no plans to stop there, either. Paul Shrivastava, the first chief sustainability officer to work for Penn State, said of future plans, "There's a whole new kind of architectural design called regenerative buildings, or living buildings. Living buildings go beyond net zero energy and produce additional energy, plants, and food so they are net additive to the environment. They combine solar energy, plant growth, office spaces, entertainment spaces, and conference spaces."
Stay green and keep informed on electricity matters with PA Ratings!
Penn State is doing its part for the environment and for the sustainability of electricity usage in the future. You can too, as well as keeping up to date for future developments right here at PA Ratings. For more information on what green plans are available, head over to https://www.paenergyratings.com/electricity-rates to explore Pennsylvania energy plans right now.