Safe Heating Tips for Winter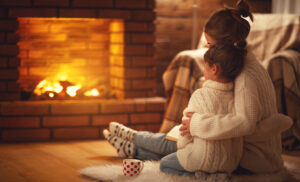 With frost in the air, you're probably looking to heat your home and avoid a high Pennsylvania energy bill. Plus with inflation and recession fears felt by many these days, saving a little extra is key. Well, one great way to save on heat is to light your fireplace or wood stove. But while there's nothing as warm and cheery as a nice fire, it can be dangerous. That's why you should keep the following best PA winter wood heating safety tips in mind.
Five Wood Heating Safety Tips
Don't leave fires unattended. Never leave a burning fire unattended. The unexpected can always happen with fires and turn dangerous.
Use a sturdy screen with your fireplace. When wood burns, you can usually see embers pop and snap, then sparks fly. For that reason, make sure you have a sturdy screen in place to block sparks and ash from escaping the hearth.
Inspect and maintain your wood stove. Take the necessary steps to get regular inspections and maintenance of your woodstove. This way, you know your woodstove works properly. If the woodstove needs any repairs, get these done to avoid fire safety issues before you begin using your woodstove.
Don't burn anything besides wood in your wood stove. Wood stoves are designed to burn wood safely and efficiently within a specific temperature range. Because of that, other fuels may burn too hot for your stove and cause serious danger to your home.
Make sure the damper/flue is open. Whenever you light a fire in your fireplace or wood-burning stove, make sure the damper is open. The damper controls the air flow and lets smoke go up the chimney. You don't want that smoke coming back into your home as it can harm your family.  
Keep Costs Low While Staying Warm
Fire places and wood stoves are great for heating your home in the winter. They help you save money on electricity and heating costs. But pay attention and remember to use them with safety in mind. Also, keep in mind that you can lower your electric bill by shopping for a low fixed rate electricity plan. Locking in a fixed rate can help keep you from getting burned by uncertain PTC rates from your local utility.
Visit https://www.paenergyratings.com to view available electric plans in your area and find one that works best for you!