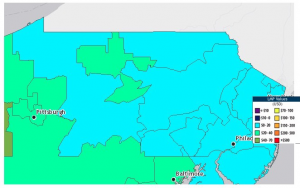 How PA Electricity Rates Per kWh Are Set
As you compare PA electricity providers and plans you'll see that these providers offer different kWh rates. You know these are the rates you use as you compare plans and prices, but you might not know how rates are selected. You might also wonder why some rates are so much lower than other ones.
The electricity rate process can be confusing. The electricity company doesn't choose any number they like but instead has to acquire the electricity through a detailed process. Read on to learn how electricity companies acquire electricity and how they set the rates they offer to consumers.
Electricity Rates Charged Per kWh
In Pennsylvania, electricity companies offer rates per kWh. Each kWh is the amount of electricity that is used by ten 100-watt lights that are left on for 1 hour. For example, if the electricity company offers a 6.59 cents per kWh rate, you would pay 6.59 cents for each kWh of electricity you use. You'll notice that electricity companies offer many different rates, some higher in price than others. So, why does this difference exist and how are these rates chosen? PJM, an entity that coordinates electricity flow in various nationwide locations, has a good system in place. They help to ensure generator resources get to electricity companies and then reach consumers.
Factors That Impact Electricity Prices
Many factors impact electricity prices. You'll find that electricity prices fluctuate for the following reasons:
Fuel costs
Power plant costs
Transmission and distribution costs
Weather
State regulations
Annual seasons
Location
Type of consumer
These factors dictate how much electricity suppliers spend on the wholesale market. They also determine how much consumers pay.
PA Electricity Starts in the Wholesale Market
When an electricity company buys electricity to offer to customers the process begins on the wholesale market. The electricity wholesale market is where resellers, i.e., electricity providers, make the initial energy purchase from the generators. Once the electricity provider buys the electricity they sell it to consumers on the retail market at a price per kWh rate. The wholesale market process consists of an auction where resources offer a price at which they can sell a certain number of mega-watt power hours. If the resource submits a successful bid, the resource will clear the market. The process will continue with other resources offering additional bids and the least expensive bid coming next in line. This will continue on until the last resource comes in with the highest price. The last price to come in becomes the wholesale price of power.
Electricity Rates on the Retail Market
There are two ways electricity suppliers can obtain electricity and secure rates: spot market and day-ahead market. With the spot market, you have a real-time market and you get the product for immediate delivery. These current prices, known as locational marginal prices (LMPs), get calculated every five minutes according to actual PJM's grid operating conditions. Locational marginal prices are the actual prices for the area where the power is going. Buyer and seller actions settle each hour and market participants will receive weekly invoices.
Day-ahead market prices calculate hourly locational marginal prices for the following day according to three factors:
Amount of energy which generators offered to produce
Amount of energy needed by consumers
Scheduled transactions between energy buyers and sellers
The electricity supplier then pays the revenues to the power supply resource according to the calculated price. The electricity company offers its customers a price per kWh rate based on the electricity rate it acquired.
Electricity Suppliers Offer Different Rates
Electricity suppliers go through many steps to acquire electricity. Therefore, it's easy to see how there can be different electricity rates available to consumers. Pennsylvania residents are fortunate to be able to shop for electricity plans and choose from amongst different rates.
Are you ready to explore the electricity plan possibilities? Visit https://www.paenergyratings.com and review the various electricity providers and plans. As you do, you'll see what rates are currently available and if they're less expensive than what you're paying. You do have choices when it comes to your electricity options, so be sure to take advantage of them!