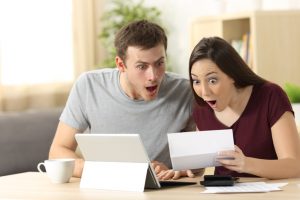 Cheaper Electricity Prices Projected for March 2020
Individuals fear high electricity bills in the wintertime as cold weather means more heat being used to keep warm. However, electricity bills have been lower than expected this winter due to the less-than-frightful weather. Even better, local electricity utilties are going to offer lower electricity rates starting March 1. So, why will electricity prices be lower in March and when is a good time to switch plans?
Why the Cost of Electricity Will Decrease
Interestingly enough, the coming price reductions are odds to what the Pennsylvania Public Utility Commission (PUC) previously reported. In fact, the prices to compare (PTC) offered by electricity distributors increased on December 1, 2019. The PTC price rose so high that one company saw an increase of 24%! Things looked so bad by mid-December that the PUC stated that customers might endure sticker shock during the winter months if they didn't switch to a competitive supplier's plan.
What a difference a month makes. Electricity prices now look likely to decrease due to a natural gas surplus. The natural gas prices have fallen to less than $2.00/MMBtu, which is a rate that hasn't been seen since March 2016. As natural gas supplies increase, the price of natural gas will decrease. And, because more electricity is generated by burning natural gas, when those natural gas prices decrease, electricity costs also decrease.
Another reason for this imminent decrease in price is due to the less-than-wintry weather we are experiencing lately. The more mild a winter, the less electricity customers use to help heat their homes. This means customers will likely see lower electricity bills. And with customers using less, lower demand will reduce all Pennsylvania electricity rates.
When You Should Switch Electricity Providers and Plans
The "shoulder months" occur in the fall and spring and are the best time to switch plans. You should start reviewing electricity plans in March since the new lower rates will go into effect March 1. For example, FirstEnergy Pennsylvania just filed new tariffed residential PTC rates with Pennsylvania's PUC. If approved, the rates will be effective March 1, 2020, and run through May 31, 2020. The proposed rates are:
Met-Ed: 5.39 cents per kWh (17% decrease from 6.51 cents per kWh)
Penelec: 5.40 cents per kWh (16% decrease from 6.44 cents per kWh)
Penn Power: 6.27 cents per kWh (17% decrease from 7.57 cents per kWh)
West Penn Power: 6.06 cents per kWh (5% increase from 5.76 cents per kWh)
PECO in Philadelphia, also submitted its residential PTC rate. At 6.60 cents per kWh (previously 6.74 cents per kWh), this price is also a lower price than in the past.
With falling natural gas prices and the decline in PTC rates, Pennsylvania's retail electricity suppliers will need to lower their rates to compete for customers. And with those shoulder months when rates hit seasonal lows closing in, consumers looking for the cheapest PA electricity rates might be able to snap up some great deals!
Sign Up for a Cheap Electricity Plan Before Prices Increase
Now's the time to start seriously thinking about switching electricity plans. The natural gas surplus and low natural gas prices driving lower electricity prices during the shoulder seasons, it will be easy to get the best electricity rates. When you do so, you'll no longer have to pay the high prices of the past due to current circumstances within the utilities industry.  Visit https://www.paenergyratings.com and compare rates and plans.