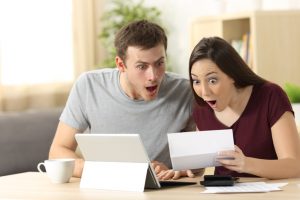 Why Is My PA Utility Giving Me A Refund?
Starting on July 1, all Pennsylvania electricity customers will receive a "negative surcharge" or monthly credit on ALL their utility bills, totaling some $320+ million.
The refund is the result of Tax Cuts and Jobs Act (TCJA) of 2017 which reduced corporate income tax rates from 35% to 21%.
In considering the increased profits to the utilities, the Pennsylvania Public Utility Commission (PUC) determined that "due to the substantial decrease in the federal corporate tax rate that became effective on January 1, 2018, it appears that existing rates may be excessive and, therefore, no longer just and reasonable."
How Much Will My PA Utility Refund Be?
The refund doesn't effect Pennsylvania electric supplier rates. Rather, the refund reduces the distribution portion of the bill that is charged by your local utility.
The amount of refund, however, depends on who your local electric utility is:
Met Ed customers could see a refund of 8.55%
PenElec customers will see a refund of 8.5%
Penn Power customers will receive refund of 8.7%.
PPL customers might get only 0.56%.
West Penn Power customers will get 7.34%.
Meanwhile, there will be no July 1 decreases for Duquesne Light, PECO, or UGI Utilities Electric customers.
Duquesne Light has already applied to the PUC for a rate increase, and had been told to cut transmission rates by 4.09%. Rate reductions might be formalized once its rate case is heard later this year.
PECO petitioned the PUC back in March to allow it to raise its rates but is using its $68.3 million tax reduction to offset the amount billed to its customers by 5.31%. PECO's request won't be heard until the end of the year.
UGI Utilities — Electric also has a rate case pending with the PUC but is estimated to refund about 1.04% to its customers.