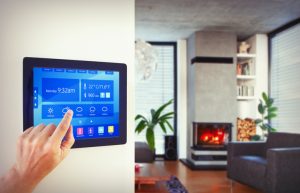 Why Do I Need a Smart Thermostat?
It seems smart devices are a huge part of our day to day lives, from smart phones to smart TV's, watches, media devices, and home AI's like Alexa, and Google Home. Integrated home technology has made a big splash in the recent years, and with improved Smart Thermostats like Nest Learning Thermostat, Honeywell Lyric, and Ecobee Thermostat, you can save electricity every day with just a swipe of your phone!
What is So Great About a Smart Thermostat?
A smart thermostat give you a level of control over your home that the previous programmable thermostats didn't have, and has the added benefit of learning with your lifestyle to find times to save you money. It can adjust the temperature through out the day with your needs. Before you wake up in the morning, your smart thermostat will turn up the heat so you don't have to. When you head out to work, your phone along with room sensors tells your thermostat when people are out of the house, allowing it to lower the temperature, improving electricity savings. If the day is a little hotter than usual, then your thermostat will check the weather, and adjust accordingly.
It also lets you know when you could turn down the heat just a bit and still get peak energy savings. In fact, according to www.energy.gov you can save 10% or more on your energy bill just by lowering your thermostat by a couple degrees for 8 hours a day!
Currently in Philadelphia, only Direct Energy's Live Brighter plans offer any Smart Thermostat support with the Nest Learning Thermostat. Their programs offer integration to give you daily breakdowns of where your electricity is going. This allows you to identify your highest electricity use days. This can be used in conjunction to their Free Power Days, available once every weekend. This is a great opportunity to do your baking, laundry, or blast the air conditioning on a hot day in the city.
You can access all this information through Direct Energy's handy web portal, where they offer online bill pay, tips and tricks on how to save money tailored just for your needs, putting you in control of your Pennsylvania electricity bill.
Even if you don't choose Direct Energy's integration package for your PECO Philadelphia provider, switching to a smart thermostat can put you in better control of your home's HVAC energy usage plus offers even more options for your home's lighting, convenience, and security. Bring your home into the 21st century, and get yourself a smart thermostat, and save money today!