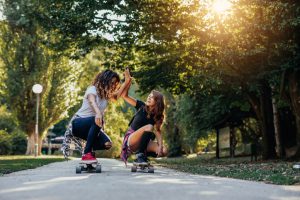 How can I protect the environment and save on my Erie electric bills?
So you've decided to take the plunge and switch your electricity supplier. Great! We only have one planet, and protecting both the environment and our future is important. But guess what? Not only can you help the planet, you can even save money while doing so! If you're in PenElec Erie and ready to make the change, you don't need to look any further than Xoom Energy's SimpleClean 12 plan!
Save the planet and your wallet with Xoom Energy!
If you're looking to reduce your electric bill, save on your household operational costs and shrink your carbon footprint, you can do no better than making the switch to green energy. The average electricity rate in Penelec Erie is approximately 14.09¢ per kWh. Instead of watching your hard earned cash fly away, you can lock in your green energy rate at only 8.6 ¢ per kWh for 12 months with XOOM Energy's SimpleClean 12 plan. That's a saving of close to 40% each month!
Xoom Energy also guarantees under their SimpleClean 12 plan that 50% of all electricity sold will be matched with renewable energy credits generated from renewable energy sources in the United States. Sleep easy knowing that you won't find any surprises on your bill and that you're doing your bit for the future of the planet.
Does Xoom Energy's SimpleClean 12 plan come with any other benefits?
XOOM Energy will provide you with two notices approximately 60 and 30 days before your contract ends, so you won't get caught by surprise when your 12 month fixed plan comes to an end. There is also no deposit, interruption of service or cost to switch when changing your electricity supplier in Pennsylvania. One thing to keep in mind, however, is that if you wish to terminate your contract before the 12 months are up there is a cancellation fee of $110.
Start saving on your bills and investing in your future now!
Choosing to go green with your energy supplier means that you're helping to bring Pennsylvania's electric rates down. This means savings for you and savings for the future. By switching to Xoom Energy's SimpleClean 12 plan you're helping create jobs, protect the environment, and last but not least, save money on your electricity bills!
Remember, you can head over to https://www.paenergyratings.com/electricity-rates to compare our choice with other PenElec Erie electric plans.