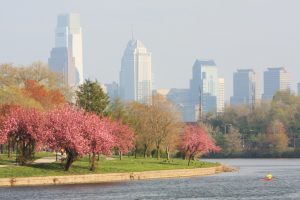 Compare Electricity Providers Philadelphia
Shopping PA electricity rates and providers in Philadelphia takes time, especially if you want to save money on this must-have utility. You might think that you don't have a choice with who provides your electricity in Philadelphia, but you do! When you view all of the options, panic might start to set in as you wonder how to choose the best one, but that's where we can help.
Consumers in the PECO service area can compare electric rates in PA. Here are three top 24-month plans that can help save you money and provide you with offerings that will fit your family's needs and budget.
Compare Electric Rates in Philadelphia, PA
The first money-saving plan is the Frontier Utilities Green Online Lock-24. This plan offers a 7.45 cents per kWh fixed rate for 24 months with a monthly recurring charge of $4.95. Some providers charge a substantial cancellation charge if you leave the plan before the 24 months is up. Frontier only charges $10 to do so.
Green PA Electricity Suppliers
The second top plan is the VerdeEnergyUSA Guaranteed Choice 24. This plan features a 7.59 cents per kWh fixed rate for 24 months. There's also no monthly recurring charge or early termination charge. As an added bonus, VerdeEnergyUSA Guaranteed Choice 24 is a green energy supplier in PA and offers rebates on its fixed competitive rates. This type of plan is perfect for those seeking out green energy options. Plus, the absence of a monthly recurring charge and early termination charge make it a prime choice as well.
Philly's Other Best Electricity Rate
An additional best PA electricity rate plan is the NextEra Energy's NextEra Saver 24. The NextEra plan charges just 7.60 cents per kWh fixed for 24 months with no monthly base charge or early termination charge. With no early termination charge, should you find a cheaper PA electricity rate when you are shopping you can PA power-switch without the added cost.
PECO Electric Rates to Compare Offers Options
Just because you are in the PECO service area doesn't mean that you must select PECO as your energy supplier. You can select any of these best Philadelphia electricity plans or opt for other plans in PECO's service territory. Be sure to compare electricity rates being offered, the early termination charges, monthly recurring charges, and other costs associated with electricity plans to be sure you're getting the best deal. Visit https://www.paenergyratings.com to explore your Philadelphia electricity supplier options and start saving money on your electric bill.