Electricity of Allentown Area Irish Pubs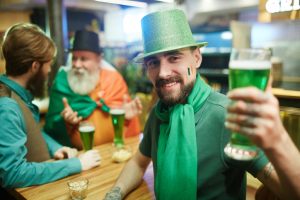 The luck of the Irish is almost upon us. If you're ready to experience an electrifying night out on the town in the Allentown area this St. Patrick's Day, a visit to a Lehigh Valley Irish pub is essential! From Guinness draught pints to corned beef delicacies, the Allentown area is your place to go for Irish fare and fun. Ready to start the festivities? Explore one of Allentown's best Irish pubs for St. Patrick's Day as well as other Lehigh Valley spots!
Most Popular Allentown Irish Pubs
One of the most popular Allentown Irish pubs is Mahoney's Irish Pub. Located on Hanover Avenue, this fun bar and restaurant offers Irish-themed excitement year-round but especially on St. Patrick's Day. On March 17, starting at 6 p.m., the Mahoney's team will be putting their Irish offerings in high gear as they host a special holiday evening at the pub. Some of the food that awaits you at Mahoney's on St. Patrick's Day includes corned beef and cabbage, shepherd's pie, plus other classic Irish culinary dishes. In addition, you can sip your favorite Irish beverages and enjoy live music from O'shep! Therefore, Mahoney's Irish Pub is a definite must-visit spot for Allentown on St. Patrick's Day!
Best Irish Menu Options
If your main focus for St. Patrick's Day is on the Irish cuisine, look no further than Molly's Irish Grille & Sports Pub over in Bethlehem. You'll love the atmosphere of this Bethlehem watering hole but you'll especially appreciate the Irish food and drink menu. Some of the items you'll find at Molly's Irish Grille & Sports Pub include the bangers and mashed potatoes, battered fish and chips, and shepherd's pie. Plus, when it comes to libations, you can cozy up to the bar for a pint of Irish beer or sip a tempting whiskey offering.
Bethlehem St. Patrick's Day Fun
As long as you're in Bethlehem, be sure to check out McCarthy's Red Stag Pub and Whiskey Bar, an excellent option for St. Patrick's Day fun. Famed as the top Irish pub and restaurant in Bethlehem, it's no wonder McCarthy's should make the list of best Irish pubs in the area. Here, you'll enjoy authentic Irish food made from scratch every day, especially on St. Patrick's Day. In addition, you can savor unique Irish whiskies and experience holiday event fun!
Best Beer Selection
You'll also find an impressive Irish beer selection at Braveheart Highland Pub just over in Hellertown. Although a Scottish bar and restaurant, Braveheart Highland Pub highlights plentiful Irish beers, too. From Smithwick's to Harp Lager, you can sample a variety of classic imported Irish brews at the bar. And you can also indulge in the corned beef and cabbage spring roll starter and Irish chicken entrée for the perfect St. Patrick's Day meal.
Get Lucky with Low Price Electricity
Now that you're all charged up and ready to celebrate Saint Patrick's Day in Allentown and the rest of the Lehigh Valley, it's time to get lucky with a low price electricity plan. Start by exploring low priced Allentown electricity plans and electric companies to find the best deal! Visit the PA Energy Ratings at https://www.paenergyratings.com.