Uncovering the Best Energy Products of 2022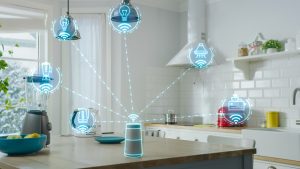 The newest and brightest tech products were in the spotlight at this year's Consumer Technology Association's Consumer Electronics Show (CES) held earlier this month in Las Vegas where electricity was in the air. I find that the CES is the best way to catch a sneak peek into what the latest tech gadgets are going to be in the new year. After doing my research, I've come up with some of the star players from this year's CES. Ready to learn more and up your technology game? Here are my top picks for the CES 2022 best energy gadgets!
Best CES Home Energy Gadgets
I've always found smart home products to be useful, tech-savvy, and energy conserving. With that in mind, Savant's newest products, Cync by Savant, caught my eye when checking out the new launches from CES 2022. The Cync by Savant products are part of a new smart home line that includes smart lightbulbs, a thermostat with room sensors, and an outdoor camera. These items are available for purchase separately. You can start your smart home collection with the affordable energy-saving lightbulbs for $12 each. The outdoor camera is available starting in February and costs $100, with an option to purchase an add-on energy-saving solar panel for $45. As for the smart home thermostat, this energy-saving item is $120 with room sensors priced at $30 each, both of which are available this month. All these items are affordable, practical, and will help you to save money.
Amazing Energy Product Your Friends Need to Know About
If you want to spread the word to friends about one of the coolest new gadgets launched at CES 2022, make sure you talk about the RainStick Shower. The energy-saving shower uses 80% less water as well as 80% less energy when compared to a traditional shower. The RainStick puts out water, collects it, filters it, and then treats it with a UV light. This process occurs six times per shower. Plus, the RainStick Shower is WiFi connected so you can track your electricity and water usage to see how much you really save. However, this product isn't cheap and retails for about $3,500. On the flip side, if you can afford the initial investment, you'll like the energy savings you may see throughout its use.
My Top Pick of Coolest CES Gadgets, 2022
Choosing only one of the coolest CES 2022 gadgets is no easy feat with so many tech-forward options on the list. However, one product that really caught my eye was the Samsung Freestyle Projector. Projectors, in general, may seem a bit boring. However, the Samsung Freestyle Projector is different from the rest. With this portable projector, you can stream movies on your wall or outdoors in a makeshift theater. If you work from home, don't squint at your computer screen. Use this projector and put your work in a spot where you can easily see it.
Also, if you want to turn your projector into a smart light or add a plug-in option, Samsung offers accessories to do so. Best of all, the Samsung projector enables you to set the picture size between 30 and 100 inches. The product also has a built-in 360-degree speaker. The Samsung Freestyle Projector retails at $899, which is a bit on the pricier side. However, it may be a good investment for both work and play purposes.
Grab a Cheap Energy Plan for Your New Products
With all these hot tech products available, don't let high energy prices cool down your excitement. Find a cheap electricity plan today by visiting https://www.paenergyratings.com. On the website, you'll also get access to company reviews and informative energy articles.