Home Gadgets for the Energy Conscientious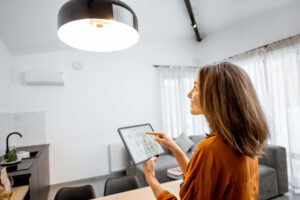 Smart home gadgets just keep getting smarter, and this year's Consumer Electronics Show (CES) as proven it. Maybe you've already considered a smart thermostat to save money on energy. But what's next? From smoke alarms to garden hoses, just about everything in your home can be automated to save you time and money. Check out our picks from CES 2023!
Rachio Smart Hose Timer
Keeping a lawn or garden is no cakewalk, especially watering. And while automated sprinkler systems can make things easier, they're expensive to install and hard to monitor. Rachio is offering a cost-effective alternative with the Smart Hose Timer. Simply install on an existing outdoor spigot, and through their app you can automate your watering. Additionally, it can even skip watering on days that it rains!
Nanoleaf Sense+ Controls
Smart bulbs have been increasingly growing in popularity, but they still don't feel as smart as they could be. Nanoleaf is here to make smart lighting a breeze with the Sense + Controls. This controller comes with built-in motion and ambient light sensors to automatically adjust your lighting to fit your routine. Pair this with any other Nanoleaf lighting for a true smart-home experience.
Shelly Plus Smoke Alarm
It's smart to be safe. And the Shelly Plus Smoke Alarm may be one of the best products out there to keep your family safe. In addition to the LED and loud alarm, during an alert it sends a notification in real time to you and your family. And in the case of smoke or fire, you can set automations connecting it to other devices in your home. For instance, you can unlock doors, shut off electronics, or turn on emergency lighting to help you navigate to safety.
Samsung SmartThings Station
Until the recent introduction of the Matter smart home standard, you had to buy products based on compatibility with the other smart items in your home. Now you can connect multiple devices from different companies with each other. This means you can buy the best products for your needs to easily manage our home.
Enter my personal favorite on the list, the Samsung SmartThings Station. This device allows you to connect to all of your devices and set routines. With a button tap you can control all of your devices from one place. Finally, no more fussing with 13 different apps! Additionally, it has a built-in wireless fast charger. It's a little device with a lot of functionality!
The Smart Way to Save Money 
All of these devices can make it easy to save time and money, but what if you're still facing high energy rates? Pennsylvania's deregulated energy makes it important to be a smart shopper. If you want to compare companies, read reviews, and find the best energy prices there's only one place to go. Check out https://www.paenergyratings.com today!