Are Old Drafty Windows Costing You a Fortune?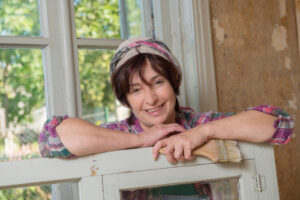 Winter weather is upon us, and with it comes high energy bills. And if you're in a home with old, drafty windows you're probably spending more money than you should. So how can you keep the warm air in and the cold air out? Here's three of the best methods to weatherize those old windows!
Prepping Your Windows
First, prep your windows by thoroughly vacuuming any debris on and around your window sill inside and out. Next, clean any surfaces with window cleaner or mild soapy water. This will ensure your weatherstripping adhesive or caulking will stick properly.

Next, it's time to assess for drafts! There's a few ways to do this. On a windy day, you can use smoke. Pass a candle or incense around the window, and if the smoke pulls in one direction you've found a leak. Likewise, you can also use an infrared thermometer to check for drafts. Pro tip: if you see condensation or frost inside your windows, there's a serious draft nearby!   
Weatherstripping and Caulking
You can also seal those drafts by using weatherstripping and caulking. Either material will save you up to 10% on your heating cost. However, which method you apply depends on where the draft is coming from.

Caulking can be applied to any gaps or cracks smaller than 1/4 in. But, it can only be used on stationary parts of your windows. Start by removing any old caulk or paint, and make sure the area is dry. Then, apply window caulking in a continuous stream. It's best to apply caulk when the humidity is low and temperatures are above 45°F, but check the manufacturer's instructions.
Weatherstripping is best for sealing air leaks around moveable joints or seams. There are several types of weatherstripping to choose from. Vinyl is sturdy, affordable, and you can easily install it with adhesive. However if you're handy and want the best seal on those old sash windows, interlocking metal channels usually provide the best protection from drafts and can last a lifetime.
Quick Fixes for Windows
But what if you rent your home, or don't have time for a project? In that case, try one of these quick alternatives.
The first is using cellular shades. Cellular shades are made of a pleated material with honeycomb-like structure in between the outer layers of fabric. These honeycombs trap air and insulate the window. This makes them very efficient at preventing heat loss, reducing it by up to 40%!
Secondly, you could install shrink-fit plastic over your windows. Shrink-fit plastic is a very quick way to stop drafts from entering the home. Additionally kits are easy to find, inexpensive, and quick to install. Simply remove the adhesive, apply around your window, and use a hair dryer to tighten the plastic.
Lower Your Winter Bills with an Energy Audit
If you want to be extra thorough, get a home energy audit. An energy auditor can find and immediately seal leaks and drafts, or recommend a contractor to do the hard work for you. In addition, an energy auditor will review other areas to make your home as energy efficient as possible. And the best part? It could be free! Several utilities in PA offer discounts and rebates for getting an energy audit.
Lastly, if you really want to save money you need to shop for the best energy rate. Visit https://www.paenergyratings.com/ and save on your bills today!