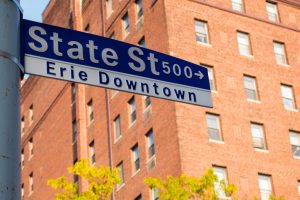 Compare Erie electricity rates!
The average household in Erie uses 837 kWh of electricity a month. How do you find the best rate and save money at the same time? If you want a very low price, Constellation Energy has the lowest price in Erie.
Constellation Energy offers its Twelve Month Home Power Plan at 6.49¢/kWh. With an average month, you spend $54.32, or $651.86 a year. Comparing Constellation's plan to another supplier's plan priced at 11.36¢/kWh means you could pay $95.08 in an average month of usage, or $1,141 a year. With Constellation, you could save $490 a year, —that's 43% less than the other supplier! And we all know that price spikes can happen during a bad winter or hot summer when energy is being used for cooling or heating. Constellation's fixed plan means that the price per kWh will not change for the length of the plan. So, if prices spike in the Pennsylvania energy market, your plan's rate will stay the same.
Satisfaction Guaranteed in Erie, PA.
Other suppliers will charge you an early cancelation fee. With their Twelve Month Home Power Plan, if you don't like the service you're getting, Constellation's satisfaction guarantee lets you cancel the plan in the first three month. This means if your dissatisfied, or you have to move, or change plans, you won't have to pay the termination fee. Constellation understands when life comes calling and plans change.
How do I pay my energy bills?
Sometimes life gets in the way, and you're late on payments. With Constellation, if you're late on payments, you will be charged 1.5% interest. Weather can cause delays, especially if you're mailing a bill in a snow storm. But you can avoid all that. Constellation has online billing to avoid overdue payments. Go online to your account and pay at any time. No more worrying about the bill getting stuck in the mail. You can even estimate new plan costs online to see how much you'll be paying when your plan is renewed.
Erie's Cheapest Electricity Company.
Constellation provides the lowest priced energy in Erie. Constellation has a satisfaction guaranteed that will let you cancel you plan without an early termination fee within three months. With a low 6.49¢/kWh fixed rate for twelve months, you could save over $400 a year when compared to other providers. Imagine what you can do with those savings. Check out https://www.paenergyratings.com/electricity-rates for more information on energy savings. If you love savings, you'll love Constellation Energy.