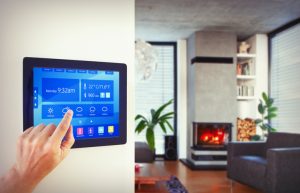 Tips for Lower Electricity Bills This Winter
With fall in full swing, it's time to think about the rapidly approaching cold winter months. Since we are in the shoulder month season when rates are lower, now's the perfect time to sign up for a low-price electricity plan. In addition to having a low-price electricity plan which will lower your energy bills, you want to weatherize your Philadelphia home to withstand the cold weather. From sealing leaky draft windows to changing furnace filters, there are plenty of ways to bundle up your home.
Find Drafts and Seal Air Leaks
The first winterizing step to take to block out cold air and save money on electricity is to find drafts in your home and then seal the air leaks. Cold air and drafts can sneak through the smallest spaces in your home, including windows, doors, and even plumbing. For window and door leaks, use caulk and weatherstripping to seal up these spots. As for plumbing areas where drafts and cold air seep in, you can use caulk or expanding foam to seal up these areas. Blocking the drafts in these locations will ensure the warm air generated inside your home stays there.
Apply Fiberglass Insulation for Large Scale Sealing
If you have a large area that is exceptionally cold and drafty, such as your basement, you can apply fiberglass insulation for maximum heat retention results.  You can also add  insulation around your window air conditioning units, any windows located in unused rooms, and especially to your attic floor. After you add this heat-saving product to your home, you're bound to see the savings on your electricity bill add up.
Change Furnace Filters for Proper Winter Prep
Another tip to weatherize your home and keep warm air in and cold air out is to change your furnace filters. You should change your filters every two months during the winter season. This will ensure proper airflow is able to get through the filter as a dirty filter reduces the efficiency of your furnace and prevents maximum warmth results. And consider a reusable electrostatic filter as opposed to a disposable filter for best results.
Save Money on Electricity with a Programmable Thermostat
If you are a tech-savvy homeowner, or simply someone who wants to save money on electricity, you should add a programmable thermostat to your home. You can set the programmable thermostat to fit your lifestyle. If you and your family members are creatures of habit, you can set your thermostat for specific temperatures throughout the day. For example, set the thermostat at a specific temperature for when you're sleeping or out of the house. This way your furnace won't be running excessively when nobody is in the house to appreciate it or you're under the warm comforter fast asleep. Plus, if you choose a smart programmable thermostat, you can even program your thermostat when you're in another location entirely.
Take Advantage of Natural Heat Sources
The sun can be your best friend during the winter. Take advantage of the natural heat source provided by the sun and open up the blinds and curtains on the bright, sunny days. The light from the sun will warm your home and do so for free! When the sun goes down, draw the curtains and make sure they are full-length drapes for an optimal heat-saving option. Drapes can slow down drafts coming in from your windows and keep the room  warmer.
Save Money with a Cheap Electricity Plan
In addition to saving money by using the tips provided above, you can lower your electricity bill by choosing a low-price electricity plan. Shop low rate plans today with the help of https://www.paenergyratings.com and sign up for a cheap electricity plan ahead of the cold winter months that are fast approaching.