Gift Ideas to Conserve Energy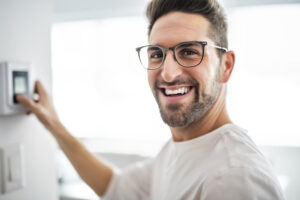 It's Christmas time again, and shopping can be a nightmare. You don't want to spend money on something that will get dusty in a forgotten corner. So what's a thoughful gift you can get for your loved ones? Gift the gift of energy efficiency! Check out these five useful energy saving gift ideas.
Gift Energy Efficiency Comfort
Avoid high electric bills with a smart thermostat. The Nest Learning Thermostat is designed to maximize the energy effiency of your HVAC, saving an average of 13% on your electricity bill. It does this by programming itself to save you money when you're away and keep your comfortable while you're home. It's easy to install, and the smart features include remote programming, maintenence alerts, and more.

The best part? You can get a rebate on a smart thermostat from your local PA utility company! Simply enter your zip code here to learn about details.
Keep Your HVAC Energy Efficient
Does your HVAC use disposable filters? To get the most out of your HVAC you should change the filter once a month. If you're anything like me, remembering to buy a new filter is low on the priority list. That's why this washable air filter is such a deal. One filter will last two years or more and all you have to do is clean it once a month. It'll save time and money, not to mention keep your HVAC running happily. We suggest buying two so you can rotate them out and make changing filters a breeze!

Energy Saving Smart Power Strip
Make energy vampires a thing of the past with this smart power strip. Compatible with Google Home or Alexa, this switch has three smart plugs you can control remotely. No more squeezing behind furniture to hit the power button! You can also set a schedule to automatically turn appliances on and off for you. And it acts as a surge protector, keeping your electronics safe.
Get Energy Efficiency with a Mini Washing Machine
One of the biggest energy draws in your home is the washing machine, especially if you're running multiple small loads of laundry. Have no fear- with this portable hand-crank washing machine, you can have clean clothes in five minutes or less! Whether it's delicates, cloth diapers, or just a fashion emergency this machine has you covered. It requires no electricity, and uses a very small amount of water per load compared to a washing machine. Pair it with this drying rack and you've got a wonderful energy effiencent duo. Add in a fan to dry those clothes and you can even avoid plugging in a humidifier, saving yourself from winter dryness.
The Big Kahuna of Energy Efficiency Gifts
Looking for something impressive that will save you money for years and years to come? Consider gifting the homeowner in your life a tankless water heater. Standard water tanks keep all the water stored in them heated, ready to go. This standby uses a ton of energy! Tankless water heaters can be 8-34% more energy efficient than standard tanks because they avoid this standby energy use. In addition they have a lifespan of up to 20 years, compared to the 10-15 year lifespan of standard home water heaters. It's truly the gift that will keep on giving!
Give Yourself the Gift of Savings
These gifts are all sure to impress as well as save energy. But don't forget to treat yourself this holiday season! Give yourself the gift of energy savings with an affordable electricity plan.
Visit https://www.paenergyratings.com and lower your energy bills today!