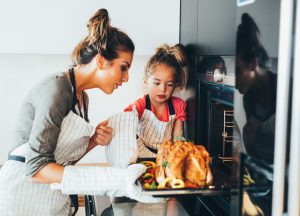 Saving Money on Electricity As You Enjoy Your Thanksgiving Meal
Thanksgiving is upon us which means that the turkey and all of the fixings will soon be on the table. Whether you have a small dinner party planned or are expecting a large crowd of friends and family members, you're sure to be using lots of energy with many lights ablaze and appliances filled with bubbling goodies. Plus, cold weather means higher heating costs, especially when keeping your guests warm. With that said, there are ways to celebrate Thanksgiving with energy efficiency in mind. From energy efficient cooking tips to chipping away at heating and lighting costs during this busy holiday time of year, the following will help you save money when hosting Thanksgiving and other holiday gatherings this season.
Cook with Energy Conservation in Mind
If you're able to use the slow cooker to prepare any of your Thanksgiving items, do so. This household appliance uses low electricity rates, from 195 to 320 watts on average, which conserves energy and is cost efficient for you. When compared with an oven that uses an estimated 2,000 to 3,000 watts, you can appreciate the savings.
Also, use the right size pots and pans when cooking so you're not wasting heat. And, when cooking in the oven, no peeking. Continually opening the oven door lets heat escape and that's energy and money going out the door…literally. These cooking energy conservation tips will help you to save energy and money.
Turn Down the Thermostat
If you're cooking in the kitchen and have a house filled with guests, chances are good that the combination will be generating a lot of heat. So before your guests arrive, turn down your home's thermostat by about 5°F.  Believe it or not, the human body produces LOTS of heat — the equivalent of 100 watts with 80% of that being waste heat. That means that 10 people will be radiating roughly the same amount of heat as a blow dryer. Add to that the oven, stove, thicker winter clothing, and your guests will be more likely to feel warm. By setting back your thermostat, you'll not only keep your guests more comfortable but also save a little on your heating bill.
Enjoy Heat by the Outdoor Fire Pit
This Thanksgiving, invite the guests outside for fire pit fun. Not only is this a great outdoor event but you'll be able to save some bucks on electricity if everyone is keeping warm by the fire and not cranking up the heat inside. Roast some marshmallows and this will keep the kids busy and not inside watching TV or playing video games, which can also lead to additional energy consumption.
Use an ENERGY STAR-Certified Dishwasher
You might think that hand washing your large amount of dishes would save money, but don't be fooled! An ENERGY STAR-certified dishwasher will use less than half as much energy when compared to washing dishes by hand. Plus, as an added bonus, it uses less water. It's a win-win, especially since you don't have to be camped out at the sink until all hours of the night.
Make Smart Lighting Decisions
Before Thanksgiving arrives switch to LED lights, if you haven't already done so. These energy-efficient lighting options use approximately 75% less energy and will last 25 times longer than incandescent lighting. And, no matter what type of lighting you have in your house, be sure to turn off lights in rooms you aren't using at the moment. This will also save you some bucks in the long run.
Switch to a New Electricity Plan and Save More!
As you head into the holiday season be sure to visit https://www.paenergyratings.com for some additional finance-savvy information. From searching for the best electricity rates in your area to reading customer reviews, you'll find plenty of helpful information on PAEnergyRatings.com.