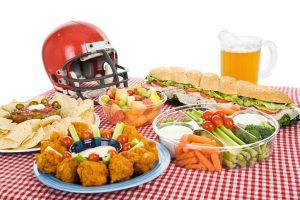 Plan an Unforgettable 2020 Super Bowl Watch Party
The San Francisco 49ers and the Kansas City Chiefs are preparing to take the field on Sunday, February 2, for the 2020 Super Bowl. As the players make their preparations for game day, you need to prepare for your upcoming Super Bowl Sunday! Maybe you're rooting for former Philadelphia Eagles head coach Andy Reid and the Kansas City Chiefs to win. Or, perhaps the San Francisco 49ers is your team. No matter what NFL team has your allegiance, make sure your Super Bowl party is one friends and family members will remember for years to come.
Here are some tips to make your Super Bowl LIV party an unforgettable event plus some helpful hints to prevent a high Pennsylvania energy bill during the party and beyond:
Hoagie Platters Equal a Touchdown
For your Super Bowl party this year, keep in mind hoagie platters are an excellent way to feed the crowd. The popular cold cut sandwiches are easy to prepare and you can create them on your own or order them from your favorite local deli. Simply add side dishes, such as chips, pretzels, and potato salad for an easy Super Bowl meal. In addition, serving hoagies means you won't have to spend hours standing at the stove, using electricity and missing the game. Remember, no matter how low your electricity rates are, you'll still be using energy to cook.
Decorate with a Theme in Mind
As you continue with party prep, think about decorations. You can choose a subtle, football-themed décor for cups, plates, and napkins and leave it at that. Or, you can go all out with a team-centric vibe from start to finish. Just keep in mind that whatever decoration style you choose, make sure to welcome guests with the sights and sounds of Super Bowl Sunday. In other words, make sure the decorations are eye-catching and the sound system is booming to turn your home into party central.
Use a Slow Cooker for All Your Favorite Appetizers
If you're serving hot food items for your guests, look for slow cooker recipes as party food options. You can use a slow cooker for delicious items such as meatballs and pulled pork and you'll be using a lower wattage appliance. You may not know this but energy usage varies with different appliances. For example, slow cookers can consume anywhere from 70 watts to 250 watts. The total wattage used can be calculated by multiplying the wattage by number of cooking hours. In comparison, stovetops may use 1,200 to 3,000 watts. This makes slow cookers much more energy-efficient and cheaper to use.
Coolers Are Hot Party Items for Keeping Drinks Cool
Your guests are going to get thirsty throughout the main event. Therefore, you'll want to have plenty of drinks on hand for party-goers to enjoy. As you stock up on cold beverages to offer to your guests, be sure to use coolers to keep the drinks cold. Stock one cooler with alcoholic beverages and the other with soda and water. These storage units offer ease of access for guests. Plus, you won't have your refrigerator continually opened and shut when party guests need a drink.
Super Bowl Party Favors Never Go Out of Style
And, lastly, don't forget the Super Bowl party favors! Football beaded necklaces, hats, and game day shirts are ideal gifts to hand out to guests on Super Bowl Sunday. You can find your favorite football swag at your local party supply store. You'll even score some great deals if you buy in bulk.
Check Out the Latest Electricity Prices and Plans Before the Super Bowl
After you have all your game day necessities prepped, be sure to visit https://www.paenergyratings.com. On this website, you can check out the latest electricity prices and plans to make Super Bowl Sunday even more energy efficient. You'll also find provider reviews and extra tips on how to conserve electricity on game day and beyond.