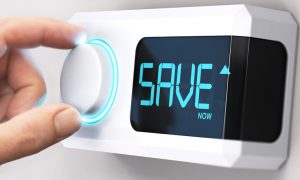 Cheap 12 Month Electricity Rate
It's getting cold outside and you want to make sure high electricity bills won't make you freeze in place. If you live in Philadelphia and crave options other than the PECO utility plan, don't worry. You can find cheap 12-month plans in your area. With natural gas prices rising and showing no signs of stopping anytime soon, you want to lock in a low rate now. Shop these 12 month electricity rate Philly plans and find a low-price electric plan today!
Lowest Price 12-Month Plan
The Santanna Energy Services Preferred 12-Month plan is the current lowest priced 12 month electricity rate. The plan costs 8.09 cents per kWh with no monthly recurring charges. However, you will have to pay a $120 early termination fee if you cancel the contract early. This fee is a bit higher than the ones charged by some competitors. Therefore, always note what the early termination fee is, if any, when you sign up for a plan. When the one-year term is almost up, the company will send out renewal notices. If you don't respond, Santanna Energy Services may be able to automatically enroll you in a new plan. As a Santanna Energy Services customer, you can take advantage of a rewards program. This program offers shopping, dining, and entertainment discounts from participating retailers.
Cheap 12-Month Electricity Plan
Another cheap 12-month electricity plan to consider is the NextEra Energy Services NextEra Eco Saver 12 plan. The plan rate is 8.90 cents per kWh and there are no monthly recurring charges. There is an early termination fee attached to the plan. Therefore, if you cancel early, you'll have to pay $10 per month for all months remaining in the contract term. Keep an eye out for renewal notices near the end of your term. If you don't reply to these notices, NextEra Energy Services may start you in a new contract term.
Low Rate Plan for New Customers
If you're a new Frontier Utilities customer, you can sign up for the Frontier Utilities PA Frontier Secure Power 12 plan. The plan has an 8.99 cents per kWh rate plus a $9.95 per month recurring charge. On the bright side, there's no early termination fee to worry about. This plan rate is for new customers only. At the end of your contract term, look for those renewal notices mentioned above and respond. Otherwise, your plan turns into a monthly setup with a variable rate. Frontier Utilities offers a money-saving rewards program for customers. If you sign up for an electricity plan with Frontier Utilities, you'll gain access to shopping and dining rewards from participating companies.
Lock in a 12 Month Electricity Rate in Philly
Now's the time to lock in a low electricity rate before your electricity usage goes up. This way, you can keep your house warm and bright in time for the holidays. Just shop these great electricity plans and choose the plan and rate that best fits your needs. You can switch electricity plans before those high electricity bills arrive.
You can do all this and more at https://www.paenergyratings.com. Review available plans, find out more about the electricity companies, and choose a cheap Philadelphia electricity plan that works best for you!