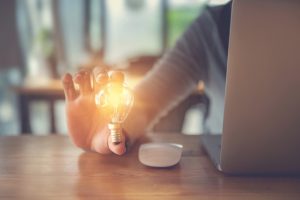 Cheap State College 12-Month Plans
Saving money is sure to spark your excitement, especially when you save on your electricity bill. If you live in State College, you'll find plenty of 12-month plans to help you achieve this goal. And with cold weather on the horizon, now's the time to shop for the best Penn State electricity plan options and lock-in a low rate.
Lowest Price 12-Month Electricity Plan
The lowest-priced 12-month plan in the West Penn Power service area is the XOOM Energy SureLock 12 plan. This plan is 4.99 cents per kWh with no monthly recurring charges, which helps to keep costs low. And as a XOOM Energy customer, make sure to take advantage of the XOOM Energy Rewards Program that will help you save money. For instance, you can grab excellent dining and shopping deals just by using your rewards points. There is a $110 early termination fee but, with a rate this good, you probably won't want to cancel. At the end of your contract, you'll receive written notice from the company with your new plan terms.
Cheap Clean Energy 12-Month Plan
The XOOM Energy SimpleClean 12 plan is 5.19 cents per kWh with no monthly recurring charges and an early termination fee of $110. Keep this in mind when comparing it with other plans. With this 12-month renewable energy plan, 50% of all electricity sold is matched with renewable energy credits (RECs) from renewable energy generator sources. After 12 months you'll receive end-of-contract notices from the company that detail your new plan options.
12-Month Plan with a Charitable Twist
For an electricity plan with a philanthropic feature, consider the XOOM Energy RescueLock 12 plan. What sets this plan apart from other electricity plans is that 5% of your monthly electricity charges will go to PetSmart Charities to help animals in need. The plan's rate is 5.39 cents per kWh with no monthly recurring charges and a $110 early termination fee.
Electricity Plan with No Monthly Recurring Charges
Monthly recurring charges really drive up the cost of electricity, so the Tomorrow Energy 12 Month Fixed plan with no charges of this type is sure to be appealing. And with a rate of 5.49 cents per kWh, the price is right, too. Note there is a $75 early termination fee, so don't cancel early unless you absolutely have to do so. When the contract is up, it will continue month-to-month at a variable rate. If you want to choose a different electric plan or electricity provider at that point, just let the company know.
100% Renewable Energy Plan with No Fees
For a renewable energy plan with no monthly recurring charges or early termination fee, look into the Verde Energy Clean Power 12. This plan is 5.99 cents per kWh and features 100% renewable energy. Verde Energy purchases RECs to provide you with a green energy plan. Be sure to check out their rewards program which offers a wide array of shopping and dining discounts. When your plan is almost up, Verde Energy will send you a written notice with the new contract details.
Cheap Electricity Plans with Excellent Features
All five plans listed above cost less than below 6.00 cents per kWh, making them excellent choices for  low-priced, feature-filled plans. For the best State College electricity plan that won't jolt you out of your seat when your bill arrives, consider the XOOM Energy SureLock 12 plan. You can lock in a low rate and pay no monthly recurring charges. This price is too good to pass up!
Learn more about the low price electricity plans in State College and the electricity companies that offer them by visiting https://www.paenergyratings.com.