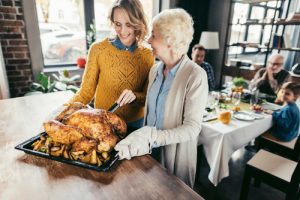 Best Philadelphia Thanksgiving Takeout Meals
Let's face it. Thanksgiving will look quite different this year due to Covid-19. However, don't put your holiday meal on the back burner. You can order your Thanksgiving feast from one of many Philadelphia area restaurants. Not only will you not feel all those pressures to produce a big dinner and but you'll also save some money on your electricity bill. So, if you want to hand over the cooking duties to someone else this year, check out these three delicious Thanksgiving to go options.
Indulge in a Four-Course Feast from Fork
Fork in Old City is offering a four-course Thanksgiving feast to enjoy at home. You can customize your meal to include all the culinary dishes your family adores. Each person will get an appetizer, entree, and dessert, plus some family-style side dishes to share. And Fork's menu is sure to draw you in with its tempting menu item. For instance, turkey with cranberry chutney, anadama herb stuffing, and dark chocolate budino, are a few culinary options you'll be able to choose from on this holiday menu. The cost is $75 per person.
Best Turkey Dinner from Scarpetta
Scarpetta in Rittenhouse Square is also offering its Thanksgiving to go dinner. The special menu includes roasted beet salad, pancetta-wrapped Heritage turkey, and pumpkin cheesecake. You can enjoy a meal you'll surely remember for years to come and save on electricity costs by not cooking. This flavorful turkey dinner is $65 plus tax per person and pre-order is now available.
Add Di Bruno Bros. Delicacies to Your Thanksgiving Meal
Di Bruno Bros. can also help make your Thanksgiving feasting easier this year. Take the day off from the kitchen and order a Di Bruno Bros. Thanksgiving meal to-go. You can order savory turkey braciola, chive mashed potatoes, and pumpkin pie, to name a few items. The only thing you need to do is heat up your Thanksgiving to go order and it's ready to enjoy!
Choose your closest Di Bruno Bros. location (Italian Market, Rittenhouse, Ardmore Farmers Market) and place your order today.
Bring the Chef-Prepared Thanksgiving Feast Home
The year's been difficult enough. Don't let your stress boil over from making a huge dinner. Start a new Thanksgiving tradition this year and indulge in a chef-prepared dinner. Plus, you'll save a little bit on your electric bill by avoiding all that extra holiday cooking. Another way to save money is to sign up for a lower electricity rate.
You can find a lower priced plan if you know the right place to look for one! Start the search now by visiting https://www.paenergyratings.com. On the website, you'll find helpful information on electricity plans, electric companies, and customer reviews.