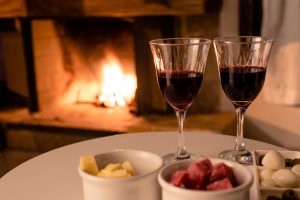 Enjoy a Romantic Valentine's Dinner at Home
Because of COVID-19, Valentine's Day looks cold and discouraging this year. Though that sounds dismal, you can still make sparks fly between you and your loved one. Just order a romantic dinner  for two delivered to your Pittsburgh home!  So to give you some ideas, we've put together our five recommendations for the best romantic dinner to-go in Pittsburgh.
Four-Course Italian Feast from Piccolo Forno
To really impress your valentine this year, order a four-course Italian feast from Piccolo Forno. For $60 per person, you can indulge in shrimp bisque, lobster and ricotta cannelloni, pork belly, and dessert. Best of all, the restaurant provides you with easy-to-follow heating instructions. All you need to do is just heat up these delicious dishes and serve. Then get ready for your palate to explode with excitement.
Valentine's Candlelight Package from Khalil's
With the Valentine's Candlelight Dinner Package from Khalil's, you'll enjoy a fabulous meal and help reduce your electricity bill at the same time. After all, you won't need to cook. For $139, you'll receive their dinner package that contains a bottle of Massaya Lebanese red wine, pita and hummus, and marinated roasted chicken. Then you and your loved one can indulge in homemade chocolate baklava and chocolate candies to complete your meal. Be sure to reserve your meal by February 10 and let Khalil's take care of the meal for you!
Heat Things Up with DiAnoia's Eatery Takeout Meal
If you want to avoid kitchen prep altogether, let DiAnoia's Eatery heat up your Valentine's Day with their to-go meal for two. DiAnoia's cooks your meal ahead of time. All you have to do is heat it up and your special meal is ready to go! With the to-go meal for two, you'll enjoy sensational Italian dishes featuring pasta and rich cream sauces. There's also delicious Italian desserts to satisfy your sweet tooth and woo your date at the same time. Lastly, the cost is $68 per person and you can reserve your meal on the restaurant's website.
Multi-Course Romantic Meal from Cioppino
Located in the Historic Strip, Cioppino also wants to help you have the best romantic Valentine's Day dinner possible. For $80, you can enjoy a dinner-for-two takeout meal featuring rich tomato basil soup, lobster risotto, and two filets. Plus, they offer a few other tempting dishes. You can also order their specialty cocktails to make your meal complete, as well. Visit the Cioppino website and be sure to reserve your meal by 5 pm, February 11!
Take & Bake for Two From Alta Via
Not to be outdone, Alta Via offers a bake-your-own Valentine's Day takeout meal.  Choose braised beef short ribs meal for $95 or salmon dinner for $85. Both come with perfectly prepared side dishes and dessert. You can also add on sweet chocolate-covered strawberries for dessert. Or perhaps try their Valentine's Day cocktail for that extra special twist. Order your meal on the Alta Via website. Remember that Alta Via limits pick up time from noon to 4 p.m, February 12 -14.
Heat Up Valentine's Day with the Best Romantic Dinner To-Go
Don't let Covid and cold weather throw cold water on your evening. Turn up the heat this Valentine's Day with a to-go meal deal from your favorite Pittsburgh restaurant. Enjoy your special dinner for two at home without needing to cook.
And if you're not getting the best deal from your electricity company, we can help with that too. Visit https://www.paenergyratings.com to compare electricity plans and find a great rate. You can read customer reviews of local electricity providers and find the best rates. Let our electricity rates and deals will make your heart throb.