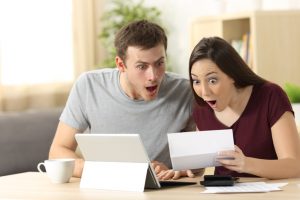 Cheap 18-Month Electric Rates
Cheap electricity rates from various electric providers in the PECO area are yours for the taking! PECO issued a new price to compare (PTC) rate this month of 6.405 cents per kWh. Many might be quick to settle for the PECO rate, but you don't have to just because you are in the PECO area. Even if the price offered by another electricity supplier doesn't beat the PTC rate, there are other great features to look for in a provider besides cost. One problem with the PTC rate is that it changes every couple months. If you're looking to stay in your budget, the PTC makes it harder!
Many electricity suppliers offer PECO-area residents great electricity rates that can be lock in for much longer than the PTC. If you want more than a year-long term length, 18-month electricity plans area great idea. Plus, the price is right.
Cheap Electricity Plan from Popular Provider
If you want the cheapest non-PECO 18-month electricity plan available, the Energy Harbor Safe Harbor 18 plan is the one to pick. Priced at 7.29 cents per kWh, you can lock this rate in for 18 months. Plus, there are no monthly recurring charges or early termination fees attached to the plan. As an added bonus, Energy Harbor is a highly-rated electricity supplier. The company has a score of 4.1 out of 5 on the Pennsylvania Energy Ratings scale which includes reviews on customer service, billing, plans and pricing, and more. This shows the company works hard to please customers and offers excellent features.
Before your term length runs out, you'll receive two separate written notifications from Energy Harbor stating your options. If you're signed up for auto-renewal, your plan will continue for another term as specified in the notifications.
Electricity Plan with No Added Fees
Another electricity plan option that offers welcome features is the Direct Energy Live Brighter 18 plan. With a cost of 7.49 cents per kWh, the Direct Energy Live Brighter 18 plan is still easy on the wallet. Add in the fact there are no added costs, such as monthly recurring charges or early termination fees, and this electricity plan should definitely be on your list of plans to consider.
During the last two months of your electricity plan, you'll receive two written notifications with end-of-term details. If you sign up for another term, the plan features will be noted in the written notifications. If you don't respond to the notifications, the new term will begin at the end of your current one. This new plan will continue either on a month-to-month basis or fixed term, depending on the details in the notifications.
Direct Energy also offers a way for you to earn some extra money and help a friend out, too! With its Refer-a-Friend program, you can earn a $50 VISA prepaid card and get one for your friend also when they sign up for a Direct Energy plan.
Low Price Electric Plan Option
For another 18-month electricity plan option, the Santanna Energy Services Premier Pick 18 Month plan is a great option. With a low price of 7.66 cents per kWh, this plan is still easy on the budget and offers an additional plan to compare with others. This plan has no monthly recurring charges to worry about. There is a $120 early termination fee if yo chose to leave the plan early. Be sure to keep this in mind when signing the contract.
Two months before the term expires, the company sends out two separate written notifications explaining your options at the end of the contract. If you do nothing, a 12-month fixed-rate contract will start at the end of your current term. The plan will have no early termination fee and the rate to be determined shortly before it begins.
If you want an electricity company that has an excellent rewards program, Santanna Energy Services is it. The Santanna Energy Rewards Program offers access to daily deals and gift card giveaways. You can also earn rewards points and use them for shopping, dining, and travel.
Review Electricity Options with Confidence
Rather than simply settle for the local utility provider, do your research, and choose the plan you want with confidence. Finding a cheap electricity plan is ideal, but it shouldn't be the only factor in the decision-making process. With so many plan prices and features, you can find the exact electric plan that works best for you.
Want to make the decision even easier? Visit https://www.paenergyratings.com to do your research easily and quickly. Review prices, plan features, and even customer reviews so that your decision can be the best one.