Reduce Cooling Costs and Save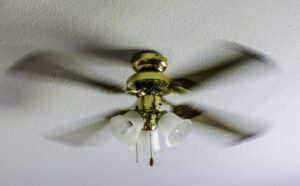 Your air conditioner has probably been running throughout the summer. Don't get overheated with anger when you see your next high electric bill! After all, we're still in the hot weather months. You may have forgotten about your trusty ceiling fan. You can reduce cooling costs when you use your ceiling fan instead of your AC. Plus, with our tips, you can save a little extra. So, let's get started finding cheap cooling options and cut cooling costs with these hot energy efficiency tips!
Get Energy Efficiency with Your Ceiling Fan
Your ceiling fan may be collecting a bit of dust if you have kept your AC running nonstop this summer. But don't forget the fact your ceiling fan can help keep you cool and stay energy efficient. For example, the average annual cost for using a ceiling fan depends on the wattage of fan you have. Here are a few average costs to operate a ceiling fan based on wattage:
15-watt fan: $15.58/year
70-watt fan: $72.73/year
120-watt fan: $124.67/year
These are a fraction of what it costs to run your home's AC system. When you use your ceiling fan as often as possible, you can cut costs and have a more energy-efficient home.
Tips for the Best Ceiling Fan Cooling
When you're ready to put your ceiling fan in motion, keep the following tips in mind:
You don't have to turn off your AC forever! Just keep in mind that you can use your ceiling fan, too, and help keep your energy costs down.
Save More with a Low Rate Energy Plan
If you want to save more money on your electric bill and keep your cool, choose a cheap rate plan. Visit https://www.paenergyratings.com to explore the variety of electric plan options in your area. Check out the various term length plans, rates, and companies to pick the electric plan that's right for you!