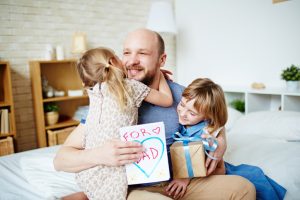 Energy Saving Father's Day Gifts
Father's Day is the perfect time to thank that special man in your life. A good option for a Father's Day gift is something that's both useful and energy saving. Not only are you giving your dad a cool, much-appreciated gift, but you're helping him save some cash, too. Here are some options for electricity-saving Father's Day gifts for dad this year!
Gas or Charcoal Grill
Summer's on its way and a gas or charcoal grill makes an excellent Father's Day gift. Help your dad up his grilling game with a new grill and some grilling utensils. That special man in your life can enjoy fresh ribeye steaks and burgers on the grill and save some money on electricity costs by not using the stove and oven. Another added bonus? Cooking outdoors reduces heat in the kitchen and lowers your home's air conditioning costs.
Smart Cordless Power Tools
Smart cordless power tools are energy efficient tools that make for great Father's Day gifts, whether your dad uses them for occasional repairs or in his daily work. These power tools use less electricity which means less money spent. Cordless drills and other cordless tools that use ENERGY STAR battery chargers are handy items to have in one's toolbox. In fact, these items use approximately 30% less energy than the non-ENERGY STAR competitors. With smart cordless power tools, such as a digitally-controlled drill, you have the perfect gift for the tech-savvy craftsman.
Smart Thermostat
Hot weather is coming which means electricity usage is going to go up. Give your dad the gift of an energy-saving smart thermostat. There are many different brands of smart thermostats available these days. The Nest Learning Thermostat is a popular one with dads (and everyone else!). It's easy to use, it programs itself, and it has been shown to save 10% to 12% with heating bills and 15% with cooling bills. That's approximately $131 to $145 in savings each year! Plus, with a smart thermostat, your dad can track energy usage and find ways to lower it.
OLED TV
If your dad loves watching the big game on television, an OLED TV is a great gift to give. OLED (organic light-emitting diodes) TVs are energy-efficient and perfect for individuals who love watching TV and saving money at the same time. OLED TVs work differently than their electronic competitors. The light from these TVs isn't a backlight. It's produced by individual molecules that light each pixel you see on the screen. These TVs offer a great picture plus are easier on the wallet when the electricity bill is due.
Smart Beer Refrigerator
For dads out there who love a good, cold beer, a smart beer refrigerator should be on the gift list. Make sure your dad never runs out of beer with the help of a refrigerator that keeps track of the current supply. One innovative smart beer refrigerator you can check out is made by DrinkShift. This refrigerator uses built-in sensors and WiFi to determine when it's time to order more brews and puts the shipment order in. With the DrinkShift refrigerator, dad will never run out of beer again!
Lower Electricity Bills Are the Best Gifts
Dad is sure to love any of these Father's Day gifts mentioned above. You can surprise him with a gift he'll enjoy and one that will help him save money on electricity bills. In other words, these are the gifts that keep on giving.
If you're ready to save money on your electricity bill, PAEnergyRatings.com can help. Visit https://www.paenergyratings.com to explore the latest electricity plan rates and electricity suppliers to see if there's a rate that rivals your current plan. Find out even more by looking at customer reviews to see which companies and electricity plans come out on top.