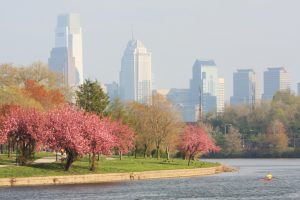 PECO Electric Rate Comparison
PECO is offering a new price to compare (PTC) rate on June 1, 2020. The new rate of 6.405 cents per kWh will be effective through August 31, 2020. PECO area residents looking to save more on their electricity can use the PTC rate to compare other electricity supplier rates and find the best deal. As you compare, think ahead to future electric bills, such as winter electricity bills which are likely to be higher this year due to a cold winter prediction. You can lock in an affordable rate for 12 months to protect you from high electricity rates during the extreme winter weather months.
To get you started in the search, here are four of the best 12-month fixed rates in Philadelphia to compare with the PECO PTC:
Lowest 12 Month Electric Rate
The current lowest 12-month electricity rate in Philadelphia is offered by Frontier Utilities. The Frontier Utilities PA Frontier Secure Power 12 plan is 5.79 cents per kWh. And, not that you'd want to, but if you need to cancel early, such as in the case of finding a lower rate, you can do so with no cancellation fee. Since many electricity companies charge early termination fees, the absence of one is a good thing to consider.
Next Best 12 Month Electricity Rate
The next best electricity option that rivals the PECO PTC rate is the Xoom Energy SureLock 12 plan. This Xoom Energy plan rate is 6.29 cents per kWh. There are no monthly recurring charges to worry about during the contract. There is an early termination fee of $110 if you cancel the contract early.
This plan rate is a little bit higher than the Frontier Utilities plan but still an excellent option to consider. And the company takes the initiative to provide affordable plans. You can see this by the recent rate decreases the past few months. Find out more about Xoom Energy and see if the company features, and this plan, draw you in even more.
Green Energy Electricity Plan
If a renewable energy plan is more to your liking, the Tomorrow Energy 12 Month Fixed plan is a good option to consider. This plan offers a 6.48 cents per kWh rate, just slightly higher than the PECO PTC rate. While there are no monthly fees there is an early termination fee of $75.
This Tomorrow Energy plan is affordable and has a renewable energy aspect to it. The actual energy that reaches your house is a mix of all grid sources. However, your usage is offset with 100% Renewable Energy Credits (RECs). In other words, the energy you use is replaced with energy that's generated from 100% pure wind power.
Five-Star Rated Company
If a five-star rated electricity company is what you crave and you don't mind paying a little bit more for your plan, Constellation has you covered. The Constellation 12 Month Home Power Plan is available for a rate of 6.79 cents per kWh. You can lock in this great rate plus have a five-star company handling your electricity supply needs. Plus, Constellation doesn't charge monthly fees. However, Constellation does charge a $150 early termination fee, which is higher than most other companies, so keep this in mind as a determining factor when choosing a plan.
Compare the Best Electricity Plans
With the option to choose your electricity supplier in Pennsylvania, you don't have to settle for the PECO PTC rate. You can go with an electricity supplier other than your local utility and get a great rate and company that provides services you need. Now that you know the price to compare, it's time to explore the other electricity plan options.
Visit https://www.paenergyratings.com to view available electricity plans and providers in your area. Compare PECO offerings with those provided by other electricity suppliers. Reading customer reviews will also help you in your search. In the end, you'll find your options are expansive and you get what you want in a new electricity plan.