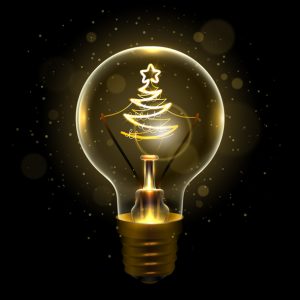 Energy Efficient Gift Ideas
The year 2020 has given many of us quite a jolt. The holiday season is the perfect time to be thankful for our friends and loved ones and show them just how much we truly care. When you create your gift list, just make sure the gifts you add to it won't result in unexpected costs for the gift recipients. Choose energy-efficient gifts like the ones below that won't break the bank when put to good use. This type of conscientious gifting is like two gifts in one!
Indoor Herb Garden with LED Lights
For the gardener in your life, the Click and Grow Smart Garden 3 is a creative gift option. This indoor herb garden easily grows basil, parsley, and other herbs. And with energy-efficient LED lights used with this product, it's easy to keep electricity costs low. As an added bonus, this gift idea is truly unique, so it's unlikely your gift recipient already has one.
Save Money with Smart Thermostat
If you want to give a gift that offers both warmth and money-saving features, the Google T3007ES Nest Learning Thermostat is it. The Nest smart thermostat offers many wonderful features, such as Alexa compatibility and easy programming functions. It's also an extremely convenient home maintenance tool to have as well. Buy this smart thermostat for your friend or loved one and help them enjoy lower energy costs year after year.
Energy Efficient Gift for the Beverage Lover
If your gift recipient is a hot beverage aficionado, you're going to want to add the Zojirushi Hybrid Water Boiler and Warmer to your gift list. This innovative beverage center provides hot water for beverages and keeps them warm, all with energy-efficiency in mind. The keep-warm setting, automatic timer, and vacuum insulated construction will keep energy costs low and beverage standards high.
Conserve Energy with Smart Sensors
The ecobee SmartSensor 2-Pack is another energy-saving idea to add to your gift list.  If your giftee has an ecobee Smart thermostat in their home, the ecobee SmartSensor adjusts the temperature in the room if someone is in it. Homeowners may be able to save some extra bucks on energy bills with these smart sensors.
Gift Energy on the Go
For the outdoor enthusiasts on your list, give the gift of energy on the go. The BLKBOX Folding Portable Solar Kit is a 12-watt portable charging station powered by the sun. This portable power charging tool helps loved ones stay connected while camping and hiking by giving them a way to charge cellphones, tablets, and other devices. And it's lightweight so it's easy to transport, too.
Give Energy Efficient Gifts This Year
When you give energy-efficient gifts you'll spark the recipient's excitement while helping to keep electricity bills low. As you peruse your gift list, think of who can use the items above and then order those as soon as possible. Your loved ones will enjoy the gift itself as well as the opportunity it provides to save money on electricity bills.
You too can save money this holiday season by signing up for a low price electricity plan. Visit https://www.paenergyratings.com to start exploring available electric plans and lower your energy bills today.