Don't Get Caught Unaware During a Power Outage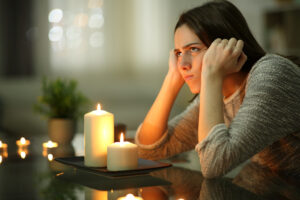 Summer is nearly here, and it's going to be a hot one. With hot weather comes higher electricity demand. And that increased electricity demand combined with severe weather often leads to power outages. Last year, there were warnings about grid capacity during peak summer months. So, what do you do when there's a power outage in the Penelec service area? Check out our handy guide for you right here.  
Before You Report a Power Outage
Before you report an outage, there's a few things you should do.
First, check whether your neighbors have power. If your neighbors also don't have power, it's time to report the outage. But, if it's just your home, check your breakers or fuses. It's possible the problem could be due to your home wiring. If you find that circuits are tripping frequently, call an electrician. But if the fuses or breakers are fine, report the outage.
Reporting an Outage to PenElec
There are several ways to report an outage with Penelec.
Your first option to report an outage to Penelec is online through their website. You can log into your account to report an outage. You can also enter the phone number, account number, or service address where the outage is.
If you don't want to report an outage online, you can report an outage by phone. You can text OUT to 544487. Or, you can call them at 1-888-544-4877.
What to Do for Downed Power Lines
If you see a downed or damaged power line, call 911. There is no way to tell by looking if a power line is energized or "live". So always assume power lines are carrying live electricity and stay at least 35 feet away. If a downed line hits your house, stay inside and avoid touching metal or running any water until first responders tell you that it's safe. And if a downed line hits your vehicle, stay inside until first responders allow you to exit. But if your car catches fire or begins smoking, remove loose articles of clothing and leap from the vehicle. Shuffle away, keeping your feet together and firmly on the ground. This will help you avoid electrocution.
Restoring Power During an Outage
So you've contacted Penelec and told them there's an outage. But fixing an outage can take time.
There's a process that work crews must follow to restore power. This involves assessing any damage, keeping the area safe, and dispatching the right professional for the job. If there's severe storm damage, this can take days.
However, if anyone in your home relies on powered medical equipment, it's best to be prepared with backup batteries or a generator. You can also call 800-662-3115 and add yourself to the Penelec critical care list. This lets Penelec prioritize your address during outages. There's some paperwork to fill out, but it's worth it to keep your family safe during an extended power outage.
Don't Spend Extra Money on Electricity
Now that you're prepared for an outage, it's time to think about your electricity rate. If your electricity rate is high, don't sweat it. Shopping for a new plan is easy. You can compare rates and read provider reviews all on one trusted site. Visit https://www.paenergyratings.com and find the best electricity plan today!