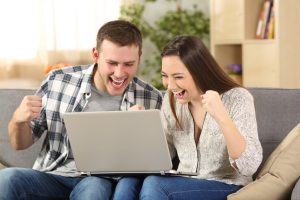 Who has the best 12-month electricity plan in Duquesne Pittsburgh?
The U.S. Energy Information Administration recently announced that most U.S. households can expect to see higher heating expenditures this winter due to higher prices for heating fuels. With the potential to see more expensive electricity bills over the coming months, what can you do to protect yourself and save money? A 12 month fixed plan will lock in your rate for the next year, meaning that if electricity prices rise, you'll continue to pay the same low rate. If you live in the Duquesne service area in Pittsburgh and want to save money on your electric bill, these are some of the best 12 month plans.
Save on your energy bill with Frontier Utilities!
Frontier Utilities comes highly rated by customers; customer service is friendly and signing up being quick and easy. They also offer the cheapest 12-month fixed plan in Duquesne Pittsburgh with their Online Lock-12 plan. You'll pay only 8 cents per kWh guaranteed for the next 12 months, and the cancellation fee is a low $10 flat fee as well. The average household in Pittsburgh pays $134 a month on their energy bill, but with the Online Lock-12 plan you would pay only $77 instead (excluding Duquesne's distribution charges), meaning you'll be saving $57 each and every month.
Spend less on your electricity with NextEra Energy Services!
NextEra Energy Services Pennsylvania offers the next cheapest 12 month fixed plan, with their NextEra Saver 12 plan. With NextEra Saver 12 you'll only pay 8.5 cents per kWh, which means you'll make savings of close to $49 each month over the average Pittsburgh household electricity bill. The NextEra Saver 12 plan comes also comes with a cancellation fee of $10 for each month remaining, making it just a little more expensive than Frontier Utilities' Online Lock-12.
Go green and save with XOOM Energy!
If you would prefer a plan using green energy, XOOM Energy offers a 12-month fixed plan called SimpleClean 12. You'll pay only 9.39 cents per kWh, making SimpleClean 12 the cheapest green energy plan in Duquesne Pittsburgh. Customers rave about XOOM Energy's cheap rates and excellent customer experience. It's also good to keep in mind that there's a $110 cancellation fee if you need to terminate the contract.
Make big savings on your electricity bill right now with Frontier Utilities, NextEra Energy, and XOOM Energy!
Secure yourself against any potential rate hikes and start saving money on your energy bill right now with Frontier Utilities, NextEra Energy Services or XOOM Energy's 12 month fixed plans. And don't forget, you can head over to https://www.paenergyratings.com/electricity-rates at any time to compare our choice with other Duquesne Pittsburgh electric plans.