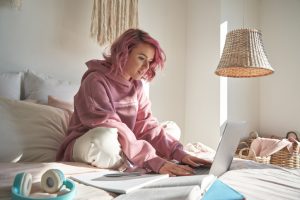 Best Electricity Option for Philadelphia College Students
College is in session and many students are back to in-person learning. To prevent a cold shudder from occurring when you see a high electricity bill, make sure your plan offers the best rates. Fortunately, there are many different electricity plans available in the PECO area. So, if you currently attend a Philadelphia university and rent in the area, check out the following plans. You can find the best electricity plan for renters in PECO and see how you can save money on your electric bill.
Cheap Electricity Rate Plan
For student renters, usually their  bottom line for electricity is getting the cheapest price. Therefore, consider the NRG Electric Choice Plan 3 Month option. The introductory rate of 6.10 cents per kWh lasts for three months. At the end of the three-month term, the rate automatically becomes a variable one under the contract. On the bright side, there is no monthly recurring charge or early termination fee with the plan. Therefore, if you find a better plan that lasts a longer period of time, you can switch fee-free.
To compare, the PECO price to compare (PTC) rate of 6.60 cents per kWh. So even though the term is shorter, you get a rate that's better than the PTC.  Plus, if you keep this plan for the full three months, you can see what other options are available. However, keep in mind, you may be ending the term in the middle of the high rate months, not the lower rate shoulder season. Therefore, be sure to plan accordingly.
Great Electricity Rate with Low Early Termination Fee
Longer-term plans sometimes have better rates. If you'll be at school for less than a year but still want a good rate, explore the Tomorrow Energy 12 Month Fixed plan. The plan rate is 6.98 cents per kWh and you can lock it in for 12 months. Plus, there's no monthly recurring charge. There is a $75 early termination fee but this is lower than fees charged by quite a few other electricity providers. When it's time to leave school for the year, you pay the cancellation fee and the contract ends. As an added bonus, this is a renewable energy plan. The company offsets your energy usage with 100% Wind Credits which provides an environmentally friendly energy option.
This rate is a little higher than the current PECO PTC rate. However, keep in mind the PTC rate changes every three months. And since the U.S. residential average price of electricity is projected to rise from 13.63 cents per kWh in 2021 to 13.88 cents per kWh in 2022, you may want to lock in a low rate now.
Find Your Best Electricity For Renters Plan Today
Don't get left out in the cold with a high electricity bill! Sign up for a low-cost plan for the college year and lock in a cheap electricity rate.
Visit https://www.paenergyratings.com to explore your electricity plan options with ease. You can check out the rates, learn about the electric companies, and lock in a low rate today!