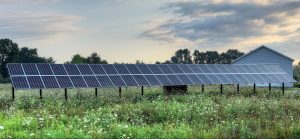 The Push for Solar Energy in Pennsylvania
Recently, there's been a surge of excitement over solar energy in Pennsylvania. That's because on March 21, Governor Wolf launched PULSE. That is, the "Project to Utilize Light and Solar Energy". The new project will power 50% of government offices with renewably-sourced electricity. This makes PA the only state to buy renewable energy for government use at such a scale. Of course, with so much news about solar energy, you may wonder if it's right for your home.
Why Solar Energy Can Be a Good Option
There are many benefits to home solar. After all, solar energy is clean, renewable, and plentiful. So, it seems like it's both abundant and good for the environment. Plus, home solar may not only lower your monthly electric bills but could also increase your home's value. As a result, all these benefits tempt people to switch their homes to solar power.
Why Some People Aren't Solar Energy Fans
However, not everyone is on board with this type of energy. There are reasons people don't want solar energy to power their homes. One reason is that this energy source can be expensive to set up. It might look good on paper for future savings, but the upfront costs can be pricey. In addition, solar panels might not fit well on your roof. Some people just don't like how these panels look. Plus, renewable energy can lower electricity costs, but you might have less savings, too. In the end, solar energy may be a good choice for some, but not for all.
Pennsylvania's Plan for a Solar Energy Boost
This new PULSE plan relies on several groups. To begin with, Lightsource BP will build, own, and operate the 191-megawatt solar project. This covers a total of seven solar generation facilities located in six counties: Juniata, Columbia, Northumberland, Montour, York, and Snyder. Lastly, Penn State's Facilities Engineering Institute will help oversee the plan. However, the solar farms won't be sending their power directly to state offices. That's because Lightsource BP will sell its power on the PJM gird. As a result, this means the state will need to make up its support of renewable energy.
As result, the state has hired Constellation to supply the energy under a 15-year fixed price supply agreement. This way, the state will buy the solar renewable energy credits (SRECs) to support green energy.
Why the Solar Energy Plan Concerns Some
Unfortunately, not everybody agrees with the state on this project. Those who currently live by solar farms or near future project are concerned about possible drops in their property values. Still, others worry about potential harm to area wildlife, or from stormwater runoff, or to views of the natural scenery. So, while solar power has its perks, it's not without its faults.
Choose Your Energy Wisely
The Pennsylvania PULSE plan starts January 1, 2023. Before then, community members can voice their concerns and the state's plan may change. If you want to be proactive with your energy choice, you can do so by choosing a low-rate electricity plan. With a low price electricity plan, you won't feel the heat every time the electric bill arrives in the mail.
View electricity plans in your area by visiting https://www.paenergyratings.com. On the website, you can check out plans and find helpful advice on the PA Energy Ratings blog.