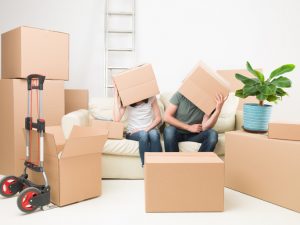 Find Low Electric Rates for Your Philadelphia Move
The Philadelphia housing market is hot these days, with houses in high demand. If you're one of the individuals on the move in Philadelphia, you'll have electricity plan choices offered by a wide array of electric companies. Before you choose an electricity plan to light up your new home, learn how to choose the best plan that's easy on your wallet. To help you get started, we're showing how movers shop and save on electric rates in Philadelphia!
Sign Up for a Short-Term Plan
Electricity plans come in varying term lengths. Some are three months, six months, or even three years. These all let you lock in your rate for the specified term. If you're not sure about making a long commitment, you could sign up for a short-term plan when you first move. This can might help you save more money instead of going with a variable monthly plan. For example, during the shoulder season, i.e., fall and spring, electricity rates tend to be lower than during the winter or summer seasons. If you sign up then, you can lock in a low for six months. This way, the plan will carry you through to the next shoulder season. At that time, you can decide if your current provider is right for you or shop for cheaper, longer term plan.
Find a Low-Price Electric Rate
As you prepare for your move to Philadelphia, look for an electricity plan that has a low price per kWh rate. There are many low-cost electricity plans to consider in Philadelphia, especially since there are many providers that offer electric service in this area. Therefore, check out the plan options, find a low rate that looks good to you, and lock it in for your desired term length.
Be Aware of Fees and Monthly Charges
You should be aware of some added costs that could potentially drive up your electricity expenses. Electric companies sometimes attach monthly recurring charges to electricity plans. You should note not all companies require this extra charge, so you can find plans without monthly recurring charges. Another cost to look out for is an early termination fee. Some electric companies charge this fee if you cancel your plan prior to the contract expiration. Therefore, keep this potential added cost in mind.
Use Rewards Programs to Your Advantage
As you shop for Philadelphia electric plans, check to see if the electric provider offers a customer rewards program. Rewards programs enable customers to earn money back on their bill plus grab discounts on shopping, dining, entertainment. Take advantage of rewards programs. You may save extra money on your electricity bill and get discounts on everyday purchases, too.
Lock in a Low Electric Rate
When you lock in a longer term electricity rate, it helps ensure your electric bill won't leave you cold each month. If you can't lock in a low rate before winter or summer begins, choose a short-term plan. This will get you through to the next shoulder season at which time you may save on lower electric rates. Another option is to choose a cheap longer-term plan with no early termination fee. This way you can cancel your contract early and switch plans when you find a cheaper option. And do so without paying a fee!
Start shopping  and save on Philadelphia electric rates now by visiting https://www.paenergyratings.com. You'll find detailed information on electricity plans, electric providers, and other helpful advice to prepare you for your upcoming move.