About Vista Energy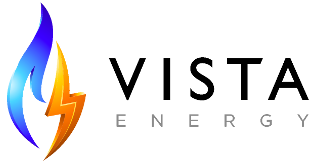 EGS#:
---
Looking for more options? Enter a zip code and check out all our plans!
---
47 Reviews and Replies for Vista Energy
Save Money with Vista!
(5 / 5)
" Vista is a good and convenient way to save money. They came to my door in November and then we started with them in January. I received two notices from Vista that my account was delinquent. I pay my PG&E bill on time so I called Vista to ask why. They looked at my account and saw that PG&E was not facilitating the payment to them. I called Vista twice and both times were because of the delinquency issue. The rep was able to tell me the root cause of the notice so my experience was good and clear. He was also able to answer my questions and Ive had nothing but good customer service from Vista. I know two people who are interested in obtaining their service and I wanna recommend them. "
— Elizabeth Alvarez
September 27th, 2018
Smart team, great prices
(5 / 5)
" We got Vista Energy to provide us with gas after they told us that they would be cheaper. And we're glad about that price. It's the same quality it seems to be so it's good. The reps I've dealt with knew what they were saying because nothing has been different from what they said. "
— Judy Phillips
September 27th, 2018
Great Reps and Service
(5 / 5)
" I had somebody come over and talked me into getting Vista Energy. Their reps turned out to be really good so I made the change. They said they were gonna help me out. They provide good service. Its just that I needed to get my bill so that I can pay it. I havent received the bill. They told me I was paying way too much and they could do better for me. "
— Alberto Mendoza
September 27th, 2018
Good at keeping bills low
(5 / 5)
" I've been with Vista for six months and so far, my experience has been very good. I've only had one high bill, and that was when I was running the air conditioner through all the heat. The reps have been very nice and professional. I've been very happy and I've told people about it. "
— Tonya Dennon
September 27th, 2018
Vista has helped 100%
(5 / 5)
" I've been with Vista Energy for a couple of years now and I just renewed with them. I like their price, and their reps have been great as they answer all my questions and are timely. Vista has helped me 100% in my day-to-day life as I am able to save money and do more things with my savings. "
— Levy Hill
September 27th, 2018
Good to recommend
(5 / 5)
" Vista Energy is good. Because of the Lowes gift card that they offered me, I went with them. They explained everything well and everything that I needed to know about the energy. Their price is pretty well fair. I leave my aircon on a little longer because its hot and they kinda helped me cut my electric down a little bit and it got cheaper on me. I enjoy the service and I would like to continue on with it. If somebody asks about it, I would tell them about it and to get the energy. "
— Solemuli Afaese
September 27th, 2018
Good team and service
(5 / 5)
" Duke Energy has a comparison website that one can go to and check the different suppliers and their rates. I got Vista Energy thinking it's gonna save me money. Everything has been fine with the Vista representatives I've spoken to over the phone. Their service is fine. However, the way they do the rates is a little bit different than others. One has to dig into it to figure out if it makes sense or not 'cause at first they had the 'a dollar a day' thing. Yet, the actual kilowatt per hour rate is good. I had to do a little bit of math and it worked out for me. So, if you're considering Vista Energy then check them out and see if it works for you. "
— John Tellep
September 27th, 2018
" I was able to save when I started using Vista Energy. Comparing them with other companies I've had before, they are about the same. Their bill comes and I pay them. "
— Joyce Chancellor
September 27th, 2018
I Recommend Vista
(5 / 5)
" Vista Energy Marketing has good service quality for what I'm paying for. I'd recommend Vista. "
— Mariann Dolosich
September 27th, 2018
" Vista Energy is definitely cheaper than the company I used before. The price was the reason I switched. To get enrolled, I clicked two buttons and that was that. They should not change a thing because it was easy. "
— Blair Canner
September 27th, 2018
Satisfied with the Price
(5 / 5)
" I went on TPL's power comparison site and I decided which one worked best for me and the term that we were looking for. Vista's price came up and I thought it was good, so I made the commitment. I am satisfied. "
— Daniel Lamancusa
September 27th, 2018
Great Customer Care and Service
(5 / 5)
" My experience with Vista has been good. I always shop on PA Power Switch but whenever my rate is up, I go to the next cheaper provider. I just click a button to switch and it's very easy to do. I'm very happy with Vista and I feel very good about the quality of their service. "
— Jamie Walker
September 27th, 2018
" We came across Vista when we googled Pennsylvania electric suppliers and we signed up with them because of the cost. We filled out a form online and it was fairly easy. All our interactions were through email and then snail mail. They also gave us numbers to call and theyve been receptive. "
— Kathryn Young
September 27th, 2018
" There was only one company that was cheaper than Vista Energy and it was confusing how to sign up for them. So I ended up going with Vista Energy because it was easier. I did everything online. My experience with them has been good too. There have been no issues and thats what I like. I hope their supply is continuous like its supposed to be, and unified too. I hope they dont cut it off at any point. "
— Elisia Tichy
September 27th, 2018
" Vista is a lot cheaper than most of the companies I have seen on the TPL website. I did everything online and Vista's website was fine. At this point, my bill is a little bit cheaper than most usual months, but not as drastic. Still, everything's perfectly fine. "
— Lisandra Saez
September 27th, 2018
PA Power Switch lead me Vista
(5 / 5)
" My previous energy provider jacked up their rates significantly and it didnt make any sense to continue with them. Using the PA Power Switch application, I've learned about Vista. Signing up with them was quick and the switch to their service worked out well. They look good and they had the best deal for going forward so I took them for a year. "
— Thomas Bush
September 27th, 2018
Shopped for the best deal
(5 / 5)
" When it comes to electricity, Im a price shopper. In Pennsylvania, you can just switch online and you dont talk to anybody. Its easy until you get the bill and you get irritated. Some companies have what I call a teaser rate. They would have a low rate to lure people in and then they double the rate without notifying people. Ive been switching power for many years and they all do that. But then you can just go online, find somebody cheaper then hit go and youre done. The price changes so you have to keep an eye on your bill. But so far, Vista has been good on that part. I got my bill a little bit lower and I would tell others to check Vista's prices and if theyre low, to go with them. "
— Brian Romancheck
September 27th, 2018
Competitive Rates, Quality Service
(5 / 5)
" The rate I currently have with Vista Energy is very competitive and I'm dealing with something I can definitely work with. The quality of service has also been good so far. I would recommend Vista. "
— James Reiff
September 27th, 2018
SAVE MONEY FOR WHAT YOU WANT!
(5 / 5)
" I use a different electric provider every year because in Pennsylvania, I can pick a gas provider which makes the most sense from an economic standpoint. I shop around and eventually, the competitive nature of the power supply in Pennsylvania pays off for me. Now, I switched to Vista and my motivation was financial because there was a standard charge of $30 a month but the kilowatt per hour charge on top of that is half of what I was paying before. So, it will save me money and I can put all the extra money into insulating my house.

I researched online and tried to fit where I wanted to be financially regardless of the companys service. Some of the marketing was saying that it is a renewable energy but all energies are renewable to the same extent and if the company is able to supply power at a lower cost that is ultimately coming from fewer resources, otherwise, the cost would be higher. It is coming down to the reliable supply of power which is PPL. So, as long as Vista can get the power through PPL and the bill works out the way that I expected to, then I'll stay with them. Vista keeps the power on at our home and that is what I'm paying for. Also, if the pricing model works out for them, they make sure that they have the base number coming through, and they are able to offer reduced rates on the power on top of that, that is whats gonna keep me with Vista. Id recommend them. "
— Frank Ryan
September 27th, 2018
Vista keeps it fresh!
(5 / 5)
" My previous plan had a rate that was locked in for a number of months. It was coming to the end of that, so I shopped around to see what other new way that I could lock in. I went with Vista Energy Marketing because of their pricing. I enrolled online and it was quick and simple. Plus the service has been good so far. If Vista Energy keeps providing competitive rates, people who are looking after their own interest and shopping around will switch to them. "
— Alan Wolfers
September 27th, 2018