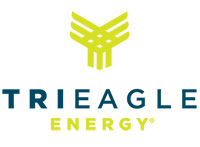 TriEagle Energy Resources

TriEagle Energy is an electricity company that has specialized in commercial electricity since it's founding in 2002. In 2011, TriEagle expanded into the residential electricity market in Texas as well as the deregulated electricity market in Pennsylvania.
---
Most Recent TriEagle Energy Reviews
Great Price
I was with Reliant paying 12.2 per kilo my plan was going to renew going up to 14.4 TriEagle gave me 9.2 per kilo for 2 years. They did all the paper work to switch, Great Service. My first bill went down 60.00 Dollars.

— Johnny500 from Graham TX
trieagle
so far so good

— clay from Baytown TX
Great Job
Very smooth transfer. Good rate, good communication!

— Great job. from Lake Worth TX
4-5 Star Reviews: 57 (37%)
Over all good!
The transfer was easy. The offer was without an up front incentive ie; credit card, coupons,etc. The offer was a substantial saving for an extended period. It has been realized.
3-4 Star Reviews: 19 (12%)
ANDERSON
EVERY THING SEEMS TO BE WORKING FINE AT THIS TIME.
2-3 Star Reviews: 14 (9%)
Billing
I have had TriEagle Energy and they did not submit my bill to PPL for billing twice in the last 12 months. We are on a fixed income and do not appreciate receiving a higher bill the next month.
1-2 Star Reviews: 61 (39%)
Abusive pricing for customers that fail to proactively renew
We live in PA and failed to renew due to family challenges. For multiple months, TriEagle overcharged us way over market since we hadn't yet processed another multiple year contract. Is this how you treat your long time customers?
TriEagle Energy News
No applicable blogs have been written

TriEagle Energy FAQs
Where can I order TriEagle Energy electricity?
---
TriEagle Energy has electricity plans in Texas
Where can I order TriEagle Energy natural gas?
---
TriEagle Energy does not have any natural gas plans
What do customers think about TriEagle Energy?
---
That depends on who you ask. There will always be someone who feels wronged by a company, no matter how good they actually are. The average TriEagle Energy customer review is 3.2 / 5 stars. Keep in mind, consumers will go out of their way to complain far more often than they will to give praise.
Recommended Electricity Plans