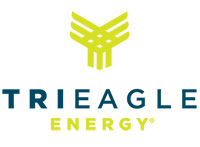 TriEagle Energy Resources

TriEagle Energy is an electricity company that has specialized in commercial electricity since it's founding in 2002. In 2011, TriEagle expanded into the residential electricity market in Texas as well as the deregulated electricity market in Pennsylvania.
All TriEagle Energy Plans
Most Recent TriEagle Energy Reviews
Great Customer service
I just got off the phone with a representative, and I asked if I could get an extension, after I explained my situation, she told me my options, she was very patient with me, I was panicking because I didnt want my lights to be cut off, I was going to have the money in two weeks, neither to say by the time I got off the phone, I was a happy camper and my renewal is coming up, and trust me I will be renewing my service, cant remember the young lady name, but Thanks again

— NaNa from Plano TX
My review
Have been with tri eagle for years, never any problems. Customer service has always been the best, will recommend.

— Brian and Beverly Paxton from 67510
Very happy
Been with triaeagle a few years and never had a problem ..so far excellent service !

— Brenda from Fort Worth TX
4-5 Star Reviews: 73 (37%)
Over all good!
The transfer was easy. The offer was without an up front incentive ie; credit card, coupons,etc. The offer was a substantial saving for an extended period. It has been realized.
3-4 Star Reviews: 23 (12%)
ANDERSON
EVERY THING SEEMS TO BE WORKING FINE AT THIS TIME.
2-3 Star Reviews: 19 (10%)
Billing
I have had TriEagle Energy and they did not submit my bill to PPL for billing twice in the last 12 months. We are on a fixed income and do not appreciate receiving a higher bill the next month.
1-2 Star Reviews: 81 (41%)