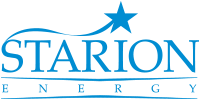 Starion Energy Resources

Station Energy is a deregulated energy provider that offers electricity and natural gas service in Connecticut, Washington D.C., Delaware, Illinois, Maryland, Massachusetts, New Jersey, New York, Ohio, and Pennsylvania.
---
Most Recent Starion Energy Reviews
Just recieved my first bill
Just as you said it was, no issues
I gave your name to to my daughter Lisa Snyder and to my neighbor Gillian Marshall — Val Angione from
First Month review
My only experience so far is signing up.

— Lois from New Britain CT
Great Rewards Program
Happy with Starion and the service and rewards I receive.

— Elec User from Unionville CT
4-5 Star Reviews: 8 (67%)
Happy I Made The Switch
Very easy company to work with. Happy with the price I was given for 12 months. Very happy I made the move to Starionenergy.com
3-4 Star Reviews: 2 (17%)
First Month review
My only experience so far is signing up.
Not a good deal
People were nice enough but their "month-to-month" rate went from just under the utility company right and almost doubled by the next month and stayed right there until I noticed it and cancelled
1-2 Star Reviews: 3 (25%)
Thjs company is a joke
So like most people they called and flat out lied to me said if I sign up my monthly bill would go down nope it increased $20 and they offer a $100 sign up reward while come to find out thats not the case its not $100 they give misely discount coupons not worth it ...So i called to cancel tell me I have to wait 3 mnths or I be charged a $100 termination fee cant wait til these rip offs are out of my life
Starion Energy News
No applicable blogs have been written

Starion Energy FAQs
What is the cheapest plan that Starion Energy has?
---
The cheapest plan Starion Energy has is EcoGreen Secure 9, with rates starting at 6.69¢. This is a 9 month plan. You can find details for that plan here.
Where can I order Starion Energy natural gas?
---
Starion Energy does not have any natural gas plans
What do customers think about Starion Energy?
---
That depends on who you ask. There will always be someone who feels wronged by a company, no matter how good they actually are. The average Starion Energy customer review is 0 / 5 stars. Keep in mind, consumers will go out of their way to complain far more often than they will to give praise.