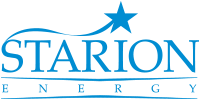 Starion Energy Resources

Station Energy is a deregulated energy provider that offers electricity and natural gas service in Connecticut, Washington D.C., Delaware, Illinois, Maryland, Massachusetts, New Jersey, New York, Ohio, and Pennsylvania.
---
Most Recent Starion Energy Reviews
Excellent
Very easy to apply

— New supplier with better rates from Dayville CT
Nice and Pleasant
I have experienced a very nice and pleasant experience with CT ENERGY
I WOULD HIGHLY RECOMMEND THEM % — Arnold from Stamford CT
Just recieved my first bill
Just as you said it was, no issues
I gave your name to to my daughter Lisa Snyder and to my neighbor Gillian Marshall — Val Angione from
4-5 Star Reviews: 10 (63%)
Happy I Made The Switch
Very easy company to work with. Happy with the price I was given for 12 months. Very happy I made the move to Starionenergy.com
3-4 Star Reviews: 2 (13%)
First Month review
My only experience so far is signing up.
2-3 Star Reviews: 2 (13%)
CUSTERMER REVIEW
DID NOT GO INTO EFFECT ON TIME SCHEDULED
1-2 Star Reviews: 4 (25%)
Thjs company is a joke
So like most people they called and flat out lied to me said if I sign up my monthly bill would go down nope it increased $20 and they offer a $100 sign up reward while come to find out thats not the case its not $100 they give misely discount coupons not worth it ...So i called to cancel tell me I have to wait 3 mnths or I be charged a $100 termination fee cant wait til these rip offs are out of my life
Starion Energy News
No applicable blogs have been written

Starion Energy FAQs
Where can I order Starion Energy electricity?
---
Starion Energy does not have any electricity plans
Where can I order Starion Energy natural gas?
---
Starion Energy does not have any natural gas plans
What do customers think about Starion Energy?
---
That depends on who you ask. There will always be someone who feels wronged by a company, no matter how good they actually are. The average Starion Energy customer review is 4 / 5 stars. Keep in mind, consumers will go out of their way to complain far more often than they will to give praise.